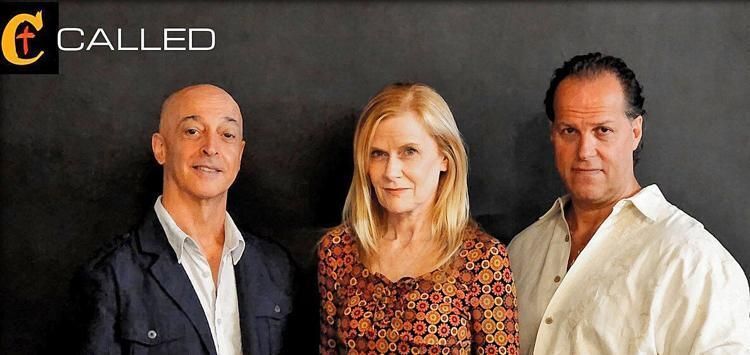 STUART | The musical ministry of Deacon Andre Boucher, who serves St. Andrew Parish in Stuart, and his band Called were formed last year to evangelize with melodies tied to Scripture. Now, the band is reaching a worldwide audience with music and video on several media outlets.
The band consists of three musicians: St. Andrew parishioner Heather Sharp on guitar and vocals, Paul Marcucci on percussion and keyboards, and Deacon Boucher on bass and vocals.
"Our individual journeys have led us all closer to Christ, so it only made sense to apply our abilities and mutual chemistry toward this 'greater mission' as a ministry," Deacon Boucher said.
Sharp said, "Being in this ministry gives me the opportunity to touch people right where they are in life and relate to them through music that speaks to their hearts and souls."
Marcucci added that, "Our collaboration is amazing, sharing musical ideas — Christian ideas — and supporting one another."
As Deacon Boucher was quoted in a March 2022 Florida Catholic article about a pro-life youth rally: "Following that event, an opportunity was afforded to us for song airplay on local Catholic radio stations 100.1 FM, 'The Message,' and 98.3 FM, 'The Beacon,' operated by Hans Krug."
At that point, Called was able to showcase its music to a much larger audience. Deacon Boucher said, "We went into the recording studio and ended up delivering a largely live album of music, 10 original works and one cover, the famous Sandi Patty tune 'Via Dolorosa.'"
The album titled "Called" was released Nov. 1, 2022 (All Saints' Day) both online and as a CD, receiving positive reviews for their musical arrangements. "To that end, our first collaboration with film producers from New York and Los Angeles was for our tender ballad 'Mother,' which is a song of an unborn child."
The album was showcased Jan. 22, 2023, on social media outlets. "Heather chose this day to publicly present her song and video ('Mother'), as it was the official Day of Prayer for the Legal Protection of Unborn Children," Deacon Boucher said.
"From the perspective of the music we write, it's kind of a musical catechism. From each of us come songs of life, love, joy, struggle, tears, repentance, the spectrum of our human experience in God, in both male and female voices," he said. "We are expressing ourselves, mirrored against the Christian messages we all need to hear. It's not just rock, it's 'upon this Rock.'"
Called is getting ready to perform at live events to support charities and spiritual retreats for youth and young adult ministries.
"Wherever we can evangelize, the better," Deacon Boucher said. "We want to be in both religious and secular settings where positive, uplifting music can counterpoint and hopefully help replace the negative musical influences that are so prevalent today."
The next performance of Called is planned for St. Andrew Parish on Good Friday, April 7, at 6 p.m. by the lake. All the faithful are invited to gather and pray the Way of the Cross with song on that solemn holy day.
For information on the band, visit www.CalledMusicUSA.com and on social media: www.facebook.com/CalledMusicUSA and www.instagram.com/called_band. To learn more about St. Andrew Parish, go to https://saintandrewcatholic.org/.