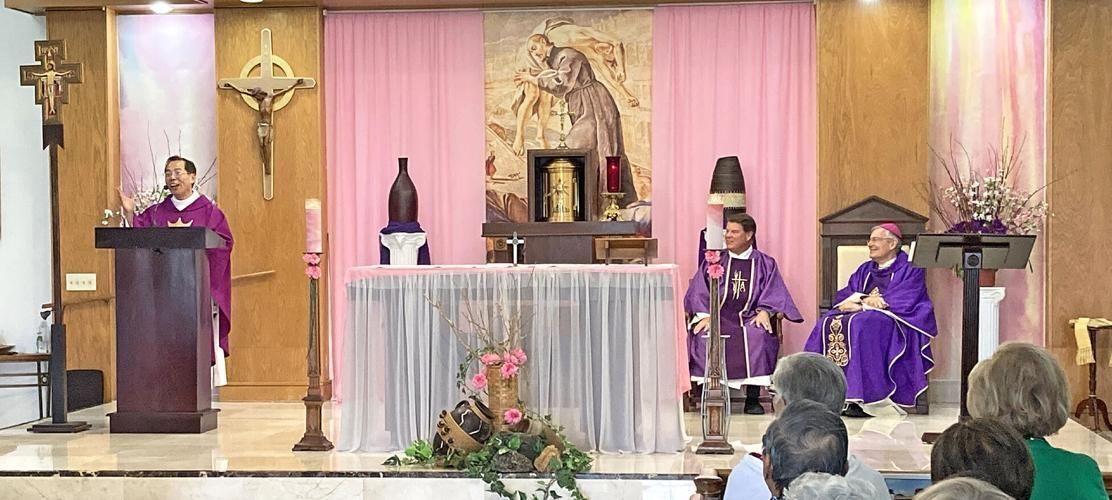 RIVIERA BEACH | Even though a March 19 Mass at St. Francis of Assisi Church in Riviera Beach was a special celebration for the parish's 75th anniversary, Bishop Gerald M. Barbarito reminded the faithful that its history can be traced back much further, to 2,000 years ago and the mission of Jesus Christ.
"St. Francis of Assisi is in communion with the life of the church, and Jesus has given us this church," he said. "And the center of the life of the church is what we are celebrating now — the Eucharist, the Mass."
The joyful liturgy led by the bishop was part of a weekend of events at the parish that included a March 18 community gathering, concert, award presentations and vigil Mass with former pastors and benefactors. The awards of honor were presented to Deacon Emile Paul Emanuel Ambroise, Deacon Richard Lyles, Angelo LaRosa, and Frank J. and Julia D. Lewis, who funded construction of the church and school in the 1940s.
Praising the parish for its Christian example, Bishop Barbarito said, "St. Francis has been a wonderful parish in this diocese, as it is today, exhibiting what our faith is all about. It has been rich in so many different ways, from its population to its diverse ethnic background and living the faith."
In his homily, the bishop explained that it was a fitting day to mark the 75th anniversary on the fourth Sunday of Lent, which is also called Laetare (Rejoice) Sunday.
"We rejoice today because we are at the midway point of Lent, and we rejoice because, for 75 years, that faith in Jesus Christ as the center of our lives has been lived here at St. Francis of Assisi Parish," said Bishop Barbarito, who added that he enjoys visiting the parish, especially for the Christmas Eve liturgy.
"I have experienced in my years here on different occasions the vibrant faith, the vibrant devotion, the vibrant love, the vibrant acceptance of each other, made in the image and likeness of God, with all of you, and that is a great and wonderful thing to experience," he said.
Father Peter Truong, pastor of the parish, expressed his appreciation at the end of Sunday's Mass for all who had a hand in planning the 75th anniversary events.
"We celebrate to remember. We remember to be grateful. We are grateful to continue the work," he said. "This is our Christian life and Catholic faith. We can take time, but we don't stop. We are enjoying the service of God for our people."
Father Truong thanked Bishop Barbarito for his "special love and care for this parish, and we are always proud to have you as our shepherd." The pastor said he was grateful for the priests who concelebrated the Mass and the generous members and friends of the parish who had helped maintain and upgrade the church and, "most significantly, the spirit of faith and the Catholic life of this parish."
"I personally thank my parishioners who, as it has been almost 10 years, have accepted me as their pastor and have supported me to be a good one for them," he said.
Father Truong urged all in attendance to take a copy of the parish's 75th anniversary commemorative book, and invited everyone to a reception afterward in the parish hall.
Talking there with the Florida Catholic, Jeff and Cheryl Humes said how they have been members of St. Francis of Assisi since moving to Riviera Beach in 2017 and, even after moving to Hobe Sound, they still make the drive south every week for Mass. Their reason, they said, is Father Truong, who has made a huge impact on the area through his ministry and good works.
"He speaks from the heart every single week," Jeff said. "He doesn't use notes. He just talks to the congregation. It's so genuine. So heartfelt every week."
"He says real stuff. It's life-changing," Cheryl added.
Randy Johnson, parish finance council chairman and parishioner for 43 years, who attended the Mass with his wife, Gwendolyn, praised Father Truong and the members of St. Francis.
"We're at home here. We just love the folks. We want to reach out and continue to bless the whole community," he said.
"We're blessed to have Father Peter. What you see is what you get, and you're getting it all the time," Randy added.
Some of the parish's charitable projects for those in need include collecting food and school supplies for families that can't afford them. The items are given away to everyone, regardless of their faith, race or nationality. "We try to be the hands and feet. We love the community," he said.
To learn more about St. Francis of Assisi Parish, visit https://stfrancisofassisi1948.org/ or follow it on Facebook. To see all of the parishes in the Diocese of Palm Beach, go to www.diocesepb.org/parishes/.