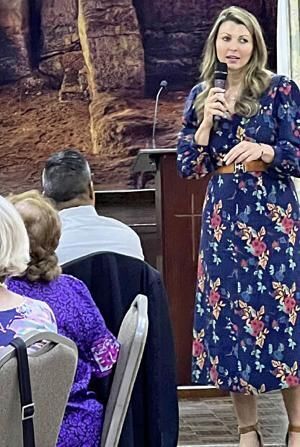 The latest Luncheon 4 Life was hosted March 28 at St. Jude Parish in Tequesta and featured a talk by Lisa Rowe, CEO of Support After Abortion, a nonprofit that works with more than 800 agencies to offer hope and healing to people impacted by abortion.
From a political and religious standpoint, we understand how polarizing the subject of abortion can be, she said. But from a human standpoint, considerable work remains. It is the responsibility of caring individuals to reach out to families, friends, churches and communities to serve post-abortive women and men with compassion and dignity, Rowe said.
The next Luncheon 4 Life — a monthly pro-life event that features a complimentary meal for like-minded people to learn and network — is planned for Tuesday, April 18, at Holy Family Parish in Port St. Lucie. The presentation will focus on the Save the Storks organization.
For information about Luncheons 4 Life and other pro-life activities, visit www.ccdpb.org/programs/respect-life/ or contact Deanna Herbst-Hoosac at dherbst@ccdpb.org or 561-360-3330. To learn about Support After Abortion, go to https://supportafterabortion.com/.