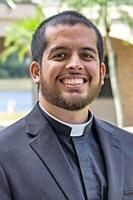 BOCA RATON | The faithful are invited to the 11 a.m. Saturday, April 22, diaconate ordination Mass for Diocese of Palm Beach seminarian Joshua Martin at St. Joan of Arc Church, 370 S.W. Third St. in Boca Raton. At the liturgy, Martin will be ordained a transitional deacon with other students from St. Vincent de Paul Regional Seminary as they move toward priestly ordination next year.
A native of Guayaquil, Ecuador, Martin came to the United States when he was 3 years old. He was a student at Hallandale Elementary School in Broward County until he moved with his family in 2004 to Palm City and enrolled at Bessey Creek Elementary, where he discovered a talent for dancing and reading.
Martin transitioned to a different school, Peace Christian Academy, where he found his passion for playing basketball. He said the school gave him a foundation for his spiritual life by teaching the Bible, focusing on the love of Jesus and developing social skills.
Martin's home parish is St. Joseph in Stuart. His family has taught him to follow the Lord, and praying the rosary as a family gave him the foundation to love God and the Eucharist. He entered Martin County High School and was blessed to have Father Leonard Dim give him guidance to find Jesus and get involved with the parish youth group.
He graduated from high school in May 2015 and, after discernment, decided to pursue priesthood in the Diocese of Palm Beach. Martin said he is attracted to the beauty of the church, serving people, dedicating time for Jesus, celebrating the sacraments and spreading God's love in the world.
The saint he admires the most is St. Pio of Pietrelcina (Padre Pio), for his dedication to hearing confessions and saving souls for Jesus, along with his love for the Eucharist.
Martin said he is grateful to Deacon Matt Bartlett, who gave him his first Bible, for encouraging him to read Scripture and helping him develop his prayer life. He also is thankful for Franciscan Father Julio B. Rivero for his humility and knowledge, which has inspired Martin through monthly spiritual direction, and Father Dim for his kindness in guiding him to the priesthood.
The diaconate ordination Mass will be will be livestreamed at www.svdp.edu/live.
To learn more about vocations in the Diocese of Palm Beach, visit https://palmbeachvocations.com/, or follow the Office of Vocations and Seminarians on Facebook @Palm Beach Vocations or Instagram @pbvocations.