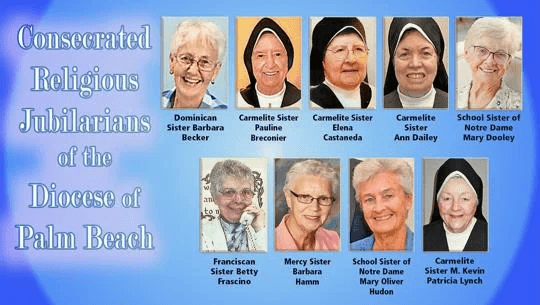 PALM BEACH GARDENS | Bishop Gerald M. Barbarito will honor nine women religious celebrating 60-, 65- and 70-year jubilees of profession during a 4:30 p.m. Saturday, May 13, vigil Mass at the Cathedral of St. Ignatius Loyola in Palm Beach Gardens. The jubilarians are:
60 YEARS
Carmelite Sister Ann Dailey
Carmelite Sister M. Kevin Patricia Lynch

65 YEARS
Dominican Sister Barbara Becker
School Sister of Notre Dame Mary Dooley
Franciscan Sister Betty Frascino

70 YEARS
Carmelite Sister Pauline Breconier
Carmelite Sister Elena Castaneda
Mercy Sister Barbara Hamm
School Sister of Notre Dame Mary Oliver Hudon
Sister Jadwiga Drapala, of the Sisters of the Most Holy Soul of Christ, who is the diocesan delegate for religious, requested biographical information from each of the jubilarians. Following are summaries of the submitted information. To read these summaries in the Florida Catholic, click here.