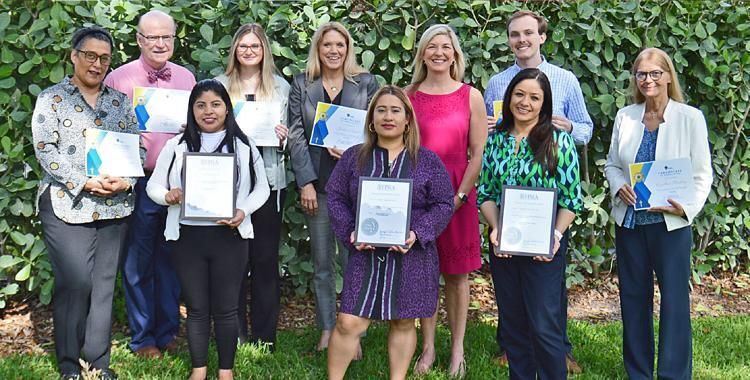 PORT ST. LUCIE | The Diocese of Palm Beach recently received three awards from the Treasure Coast chapter of the Florida Public Relations Association for excellence in public relations, marketing and communications. The local Image Awards competition is conducted annually to recognize outstanding public relations programs and to encourage and promote the development of public relations professionals in the area.
There are four different types of awards: Award of Distinction, Image Award, Judges Award and Grand All Image Award. The diocese received an Award of Distinction and Judges Award for the successful promotion of its 2022 Diocesan Services Appeal campaign. The diocese also received a social media Award of Distinction for successful efforts to grow its Facebook outreach.
The annual DSA is an annual appeal that launches in January, providing operational funds for the diocese along with supporting numerous offices/ministries. All parishes/missions are given a donation goal to reach, and the diocesan Office of Communications provides promotional materials to aid them in reaching that goal.
The goal of the 2022 DSA communications project was to cost-effectively create new, updated communications materials, which would then be publicized and presented to the 54 parishes/missions in the diocese. Other objectives were to develop a website link that would offer new DSA promotional tools and devise a framework to instruct those who were chosen to direct the DSA campaign at each parish.
The 2022 DSA campaign saw a significant increase in participation and level of giving by donors, with lower costs involved since most of the marketing work was accomplished by diocesan staff members.
The Award of Distinction for growth of the diocese's Facebook outreach recognized efforts to promote the mission of the diocese through social media. The goal was to develop better scheduling of posts, branding and use more video elements to attract a wider audience.
The diocesan Facebook page grew its reach from 65,437 in September 2021 to 124,258 in September 2022 (an 89.9% increase), with Facebook page visits up from 6,441 to 11,061 (a 71.7% increase) in the same timeframe. In addition, page likes increased from 241 to 577 (a 139.4% jump) in one year, and Facebook followers increased from 4,730 to 5,449 (15.20% increase).
"It is an honor for the Diocese of Palm Beach to be recognized for its hard work in the field of communications. The success of the entries for our work on the DSA and our social media growth is a direct result of our talented team of professionals and the support of our diocesan leadership," said Jennifer M. Trefelner, director of communications and development. "We are blessed with a talented communications and development team, in addition to generous donors and enthusiastic parishioners."
Conducted annually, the Image Awards competition provides public relations practitioners with a platform to be recognized in their home markets for outstanding public relations tools and programs. The awards also offer insights to entrants for entering their work, if they choose, into the FPRA's statewide Golden Image Awards program, which have become a standard of public relations excellence in Florida.
The Image Awards mirror the Golden Image Awards, and both competitions include four divisions: public relations programs, printed tools of public relations, digital tools of public relations, and student projects in public relations. Within the divisions are multiple categories.
To qualify for judging, an entry must incorporate sound public relations research and planning and meet the highest standard of production, execution and evaluation of results and budget.
The FPRA Treasure Coast Chapter is one of 15 across Florida, comprising more than 1,000 members statewide. FPRA members serve in private and public corporations, government entities, nonprofit organizations and agencies, all with the goal of enhancing the public relations profession through ethical and standardized best practices.
For information on the diocesan Communications Office, visit https://www.diocesepb.org/ministriesoffices/offices/communications/. For more about the FPRA chapter, go to https://fpratreasurecoast.com.