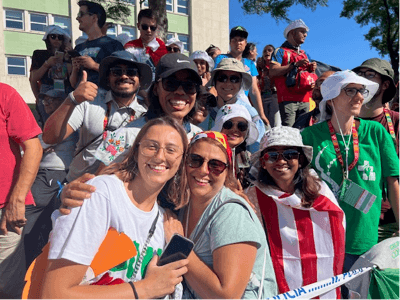 PALM BEACH GARDENS | Stepping back a bit after their whirlwind trip to World Youth Day in August, pilgrims from the Diocese of Palm Beach who traveled to Portugal and Spain reflected recently on their experiences. Along with bountiful spiritual benefits, they reported some challenges inherent in attending an event with more than 1 million people.
Father Daniel Daza-Jaller, diocesan director of vocations and seminarians, traveled with 150 pilgrims as part of the Jesus Youth contingent from the United States that gathered days earlier at the Duncan Conference Center in Delray Beach. Bishop Gerald M. Barbarito celebrated Mass with the group July 27, 2023, as they prepared to head overseas.
It was Father Daza-Jaller's third time attending a World Youth Day. He went to Madrid in 2011, and Panama in 2019. His mission on this journey was to accompany seminarians Tommy Ageeb, Dylan McKay, Jedidiah Preble and Deacon Joshua Martin, along with Sister Jadwiga Drapala and Father Marc Gustinelli, and be a model for any young people to consider the priesthood or consecrated life.
"I knew it was going to be an enriching experience for the seminarians," Father Daza-Jaller said, "as they're men just going through life, growing in their relationship with the Lord, discerning the priesthood in a very concrete way. I know there are so many things that are part of this that are so formative and can help them grow and grow closer to God, but also discover their vocation." He said the seminarians shared with others during the trip about why they want to become priests.
Part of promoting vocations to the priesthood and consecrated life is helping young adults open their minds to the possibilities. "Also seeing a priest and sister just sleeping in bunkbeds, doing these ordinary things that aren't pretty, aren't comfortable," he said.
The first destination of the journey July 31 was Fatima, Portugal, where Mary appeared to three children in 1917 and pilgrims from around the world gather every day. Fathers Daza-Jaller and Gustinelli were able to concelebrate the large outdoor international Mass. McKay said he was impressed by the beauty of the basilica at the site, which was the first European church he had seen.
The following day, the pilgrims dove into the sea of humanity that was Lisbon for WYD 2023. Father Daza-Jaller explained that the daily WYD schedule was packed with events. Tuesday was the opening ceremony and Mass with Cardinal Manuel Clemente of Lisbon. Then Wednesday, Thursday and Friday mornings featured catechesis sessions by various bishops with music, testimonies and Mass.
"From noon onward, there were different things going on all over Lisbon: concerts, confession, adoration, different churches that had relics with different significance," he said. "Then usually in the evening, there were some planned programs. Wednesday was the USCCB gathering with Bishop Robert Barron."
Since the events were scheduled, Father Daza-Jaller said pilgrims felt compelled to attend, but, with so many people, it was difficult to travel and food wasn't always available. Some groups tended to skip those events because it was so hard to get to them.
Thursday was the arrival of Pope Francis at WYD, Friday was the Stations of the Cross, Saturday was the evening vigil, where the pilgrims tried to sleep outdoors amid the huge throng, followed by the Sunday closing Mass, he said.
Seeing the pope and concelebrating papal liturgies is very special, Father Daza-Jaller said, adding that it always reminds him "of the gift that the Lord left us, in giving us Peter, this figure of unity." The pope's opening address was very simple but moving, which was a definite highlight, he said.
While their group was assigned to sleep on the crowded floor of a school gymnasium, the priests and seminarians were sent to two homes of local families. Sister Drapala had a chance to move to one of those homes, but she elected to stay with her group of young adults. The gym didn't have enough working bathroom facilities, and sleeping was very difficult in a room with about 300 others, she said.
"It meant a lot to the women to see her staying with them," Father Daza-Jaller said. "I don't think all of them knew, but at least some of them knew that she had an option to leave and have different lodging, and she chose to stay there."
McKay, who had never traveled outside the United States, was definitely outside his comfort zone.
"I learned just how different it is to be in a different country," he said. "I experienced a mix of excitement and nervousness as I was exposed to a different culture, with different people and different languages. I discovered the beauty of being surrounded by these different sights, sounds and smells, and yet, in the midst of it, feeling grateful for my own nationality as an American."
Being more of an introvert, McKay said it was a challenge to constantly be around so many people. "There was lots of energy amongst the crowds, and this energy drained my energy. I found myself pretty exhausted at the end of each day, not only physically but also mentally and emotionally," he said.
With the crowds in Lisbon, public transportation was not an easy option for pilgrims, so walking was how many groups got around. All of that exercise prepared the group from the Diocese of Palm Beach to tackle the Camino de Santiago. For more than 1,000 years, pilgrims have walked from France, Portugal or various points in Spain to Santiago de Compostela, to the cathedral that contains the remains of apostle St. James the Greater.
Following WYD events, 30 Jesus Youth pilgrims from the United States began walking the Camino Aug. 7, starting in the Portuguese town of Tui on the Spanish border. Father Daza-Jaller had walked the 120-kilometer route with family members six years earlier, so it was familiar to him. He sees so many spiritual gifts from the Camino.
"There were so many different little nuggets along the way, from the sense of going at your own pace and not trying to match someone else's pace, from the sense of needing rest and nutrition. I think of all these things in a spiritual sense," said Father Daza-Jaller, adding that they walked 16 to 26 kilometers per day.
He was able to spend individual time with each seminarian. "On two or three particular days, I walked with one of them for a period of time and just talked and caught up on stuff," he said. "Getting to be with them is always something that I value a lot, getting to hear how they're doing, what are areas that they just need help in or prayer. There were many graces."
Sister Drapala said the pilgrims rose each day and gathered at 5 a.m. for prayer, travel advisories and stretching before heading out to reach their next destination. "We slept in pilgrim hostels, where we were able to do laundry each day, get cleaned and maybe take a nap if you arrived early enough," she said. "In the evenings, we had holy Mass, adoration, opportunities for confession, small group sharing and dinner, served not earlier than 8 p.m.
"Most of the time, we walked through beautiful woods, fields, gardens, vineyards and small villages," Sister Drapala said. "We walked through the part of Spain called Galicia that is famous, among many other things, for its stone crucifixes on the road."
McKay said he enjoyed walking and having the opportunity to travel. "With WYD and the Camino, this was certainly the most I have ever walked. As someone who loves fitness and spending time outside, I did not mind all the walking," he said.
The destination of all Camino pilgrims is the Cathedral of St. James in Santiago de Compostela. It took the group six days to travel the route, capping the journey with Sunday Mass at the cathedral before heading to the airport for their return flights.
Father Daza-Jaller said the pilgrims who went to WYD and the Camino experienced many insights just by journeying together, feeling the hardships, having conversations and watching out for each other.
"Once you're there, the Lord begins to reveal to you why you're there," he said. "There's just so much that it reminded of and revealed about the human journey of life. It breaks you down to know what are the real necessities of life."
For information on vocations to the priesthood and consecrated life, contact Father Daza-Jaller at 561-775-9552 or vocations@diocesepb.org, by visiting www.palmbeachvocations.org or following the Vocations Office on Facebook and Instagram.
To read this and other stories in Florida Catholic, click here.