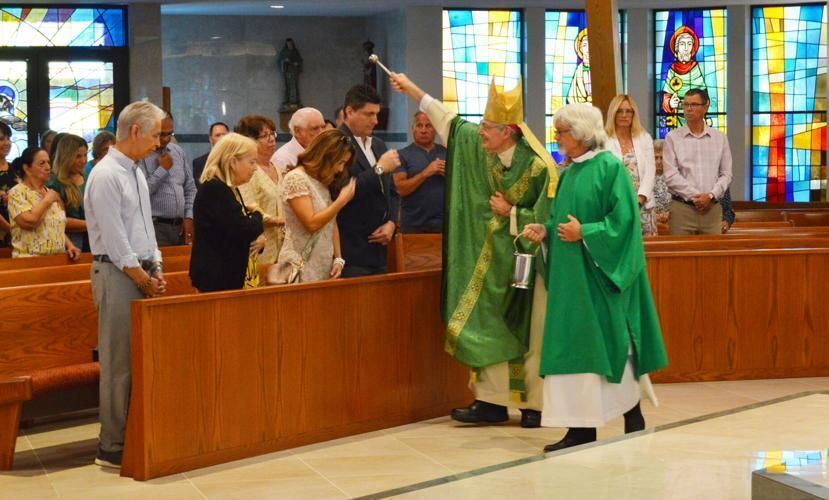 DELRAY BEACH | After celebrating weekend Masses in the school gymnasium since June, members of St. Vincent Ferrer Parish in Delray Beach were pleased to be back in their church Sept. 7, 2023, and to have Bishop Gerald M. Barbarito bless the improvements made to their worship space.
The beautification project included installing porcelain floor tiles throughout, new pews, lighting and hurricane/security doors, along with fresh paint in the church. Father Dennis Gonzales, St. Vincent Ferrer's pastor, said a new sound system also will be added.
When asked how he felt about the results of the project, he said, "I feel great because I feel this is a product of unity and love of the parish. I think people will love to have this new church. I think it improves their worship of the Lord. It permeates their lives. I hope this invites spiritual renewal as well."
During his homily, Bishop Barbarito said the renovations are a sign of the beauty embodied in the parish of the faith well lived and the love that members feel for their church.
"As I now bless new renovations — the floor, the lighting, the pews — I bless all of you because you are the church, the people of God here at St. Vincent Ferrer Church," he said. "And as Jesus gives himself to each and every one of us in the Eucharist tonight, he reminds us he is with us. He never leaves us, he's with us fully in this Mass and in his presence in the tabernacle, and he remains with us as we return to our homes and to our families."
At the conclusion of the liturgy, Father Gonzales expressed gratitude to many who helped make the capital campaign and renovation a success. He started with the bishop, for presiding at the Mass and blessing the completed work. He also thanked Msgr. Tom Skindeleski, the longtime pastor who began the capital campaign, parish staff, finance council members, donors and parishioners for their unwavering support.
Father Gonzales said the renewed church "invites us to renew our own selves and our spiritual lives. The way we live and the way we practice our faith. Probably it should start with coming to Mass and being faithful to the holy Eucharist, participating especially on Sundays and coming to Mass early and on time.
"My friends, may God bless all of us and may an abundance of joy and laughter always permeate our church and our homes. I pray and hope that we will continue to support and give and share love with one another," he said.
For more information about St. Vincent Ferrer Parish and School and the beautification project, visit https://stvincentferrer.com/ or follow on Facebook and Instagram. To view the Sept. 7 bishop's Mass, go to https://vimeo.com/862161277.
To read this and other stories in Florida Catholic, click here.