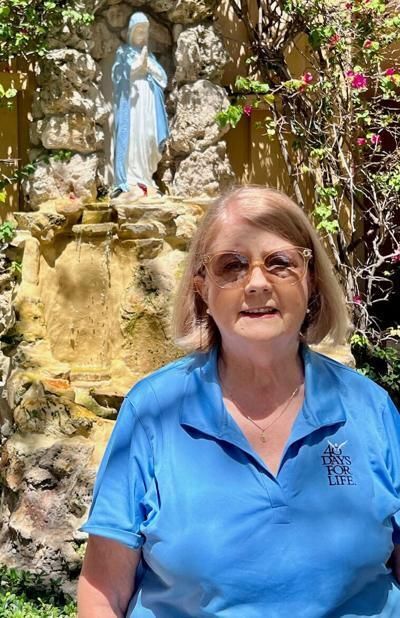 PALM BEACH GARDENS | Mary Ellen Chajkowski, leader of the 40 Days for Life campaign outside the abortion facility near 45th Street in West Palm Beach, received the 2023 Pro-life Person of the Year Award from the Diocese of Palm Beach during the annual Florida Culture of Life Conference Oct. 13-14, 2023, in Gulf Breeze near Pensacola.
A member of St. Ann Parish in West Palm Beach, Chajkowski said she became involved in the local 40 Days for Life vigils after attending a Luncheon 4 Life, which is a free meal for pro-life people to learn and network. 40 Days for Life, held in spring and fall, involves being present and praying outside abortion centers from 9 a.m. to 5 p.m. to dissuade mothers from aborting their children. Since 2007, the national organization reports that more than 23,000 unborn lives have been saved, 145 abortion centers have closed and 251 abortion workers have quit their jobs.
"My respect for life is grounded in my family experience, my Catholic education and devotion to Our Lady of Fatima," Chajkowski said. "I have seven siblings, three children and four grandchildren. My rosary group invited me to pray at abortion centers every week for years in Jacksonville. I am an associate member of the Legion of Mary."
She said the pro-life presence at abortion centers offers the last sign of hope to the unborn and the first sign of mercy to mothers.
"Leading 40 Days for Life last fall and spring were my privilege and pleasure," she added. "More than 100 volunteers participated, led in prayer by 24 experienced shift leaders from 10 different parishes in the diocese."
Deanna Herbst-Hoosac, Respect Life program director for Catholic Charities, who presented the award to Chajkowski following the state conference, said, "We are blessed to have Mary Ellen's leadership for 40 Days for Life in our diocese. She has reached out to many pregnant women who have changed their hearts and minds, truly making a difference in the lives of the unborn and motherhood."
For more information on local pro-life activities, visit https://www.ccdpb.org/programs/respect-life/ or contact Herbst-Hoosac at dherbst@ccdpb.org or 561-360-3330. To learn about the local 40 Days campaign going on through Nov. 5, visit www.40daysforlife.com/en/westpalmbeach.