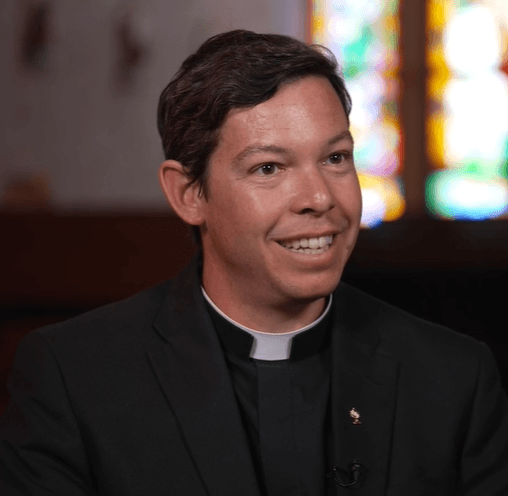 PALM BEACH GARDENS  |  No matter if it rains or shines, Saturday, May 6, is sure to be a picture-perfect day in the Diocese of Palm Beach as Deacon Marc Gustinelli will be ordained a priest at the Cathedral of St. Ignatius Loyola in Palm Beach Gardens.
Bishop Gerald M. Barbarito will preside and confer the sacrament of holy orders on Deacon Gustinelli at the 11 a.m. Mass, with hundreds of fellow clergy, family members, friends and well-wishers in attendance.
Deacon Gustinelli, whose home parish is St. Vincent Ferrer in Delray Beach, studied at St. John Vianney Seminary in Miami before moving to St. Vincent de Paul Regional Seminary in Boynton Beach. A native of Palm Beach County, he is the oldest of five children (two brothers and two sisters).
After being ordained a deacon in April 2022, Deacon Gustinelli served at St. Philip Benizi Parish in Belle Glade since June while completing his seminary studies. "What I've been doing out there is mainly anything I can do as a deacon to assist the pastor, Father Nobert (Jean-Pierre), in any capacity. In Belle Glade, that can be a variety of things," Deacon Gustinelli said.
He helped out at a summer camp, assisted at liturgies, burials and funeral Masses, blessed homes, brought Communion to the sick in the area and many other tasks. Those experiences revealed to him the diversity and the faithfulness of God's people in the western reaches of the diocese.
"I think it's a great thing for a deacon like me to go to a church that's at the farthest end of the diocese, to go out into the country where it's a little bit isolated, where it's a little bit different from the rest of our diocese, to see that reality, that it's still part of who we are and what we serve," Deacon Gustinelli said.
At age 38, he has traveled to more than 40 states in the United States and lived in the U.S., Canada and France, where he has dual citizenship. Deacon Gustinelli says the Diocese of Palm Beach is one of the most unique regions "in terms of socioeconomic, poverty and riches, between diversity of cultures, languages, types of people, the way people look, the way people act, what they expect. It's really remarkable."
Those unable to attend the cathedral celebration can access the livestreamed ordination on the cathedral's website: www.cathedralpb.com.
To learn more about vocations in the Diocese of Palm Beach, visit https://palmbeachvocations.com/ and follow the Office of Vocations and Seminarians on Facebook @PalmBeachVocations or Instagram @pbvocations.
---
Deacon Marc Gustinelli talks about his road to the priesthood in a video from the diocesan Office of Vocations and Seminarians below. Join us in praying for Dcn. Marc as he prepares for this great day!