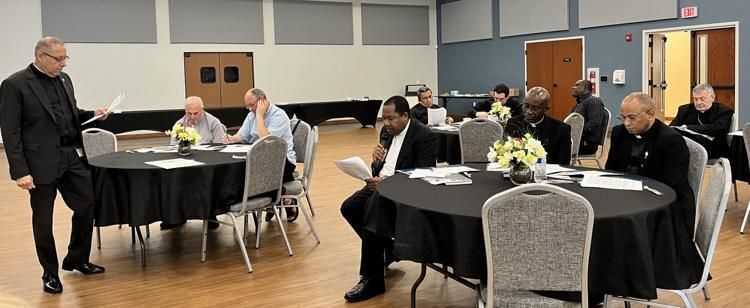 PALM BEACH GARDENS | More than 15 priests from parishes with active Hispanic/Latino communities met Oct. 12 with the diocesan Office of Hispanic Ministry and Bishop Gerald M. Barbarito to discuss priorities and challenges. This annual meeting also included speakers promoting programs of interest to Spanish-speaking individuals and families.
Father Duván Bermúdez, director of Hispanic ministry, spoke about the goal and main points contained in the national and Diocese of Palm Beach pastoral plans for ministry to Hispanic/Latino Catholics.
"The reality is not to create two communities — Anglo community or Spanish community or Creole community. It's more important to create one family, recognizing that we have different languages and different cultures, but we are one family, one church," he said, adding that, by encouraging participation by people of all backgrounds, the church will grow.
Working with a team of local clergy and parishioners, Father Bermúdez's office released its 2022-30 diocesan pastoral plan in June 2023. One bound copy of the plan was given to every parish with a recognized Hispanic community.
He encouraged the priests in attendance Oct. 12 to designate one or two people in each parish to serve as a liaison to the Office of Hispanic Ministry. Those people are then the point of contact for Hispanic ministry and help build connections among all parishioners.
"Communion and mission are very important to create bridges to connect our communities and share cultures and ideas and grow as one family," Father Bermúdez said. "Remember, at every weekend Mass we profess our faith, and we say, 'I believe in one, holy, catholic and apostolic church.' But sometimes we have divisions in our own parishes and communities."
Also addressing the priests were Jennifer Trefelner, director of communications and development, who welcomed and thanked them for attending; Anna Hernandez-Diaz, family services advisor and marketing manager for Our Lady Queen of Peace Cemetery, who showed a video on the Catholic cemetery, explained its programs and urged outreach to Hispanic families; and Father Daniel Daza-Jaller, director of vocations and seminarians, who touched on upcoming events and the need to encourage Hispanics/Latinos to be open to vocations to the priesthood and consecrated life.
To read the bilingual pastoral plan for Hispanic ministry in the Diocese of Palm Beach, scan the QR code shown here or go to the diocesan website at www.diocesepb.org/file_download/inline/ccd9889b-1997-48b2-a9ba-9c559ea8f042.
To read this and other stories in Florida Catholic, click here.