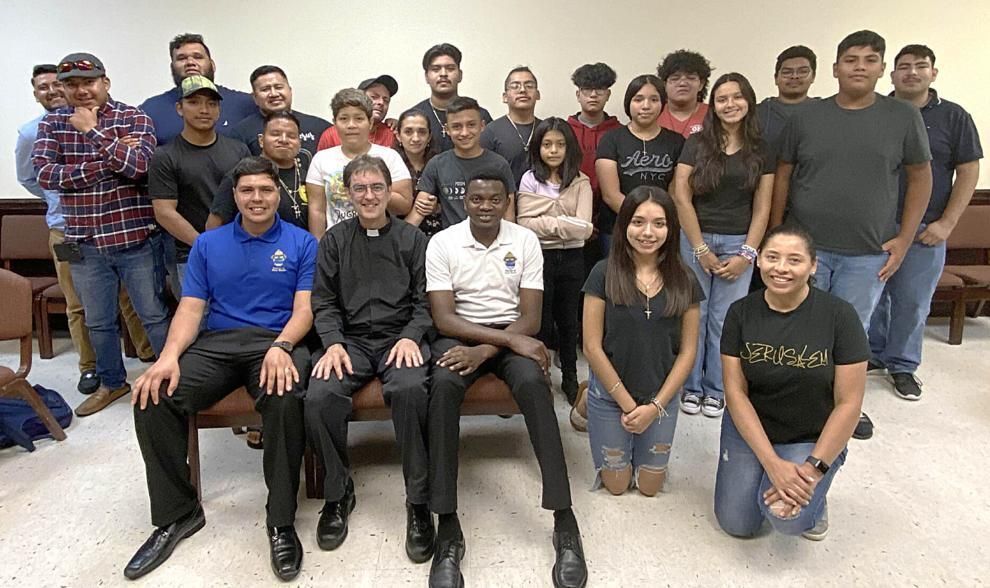 DELRAY BEACH  |  Summer is an active time for the men in formation to become priests for the Diocese of Palm Beach. That is because of the range of summer house activities planned for them by the diocesan Office of Vocations and Seminarians.
Father Daniel Daza-Jaller, director of vocations for the diocese, said the early part of the seminarians' summer break was a bit hectic.
"We were bouncing around. We started off with the seminary, with just a few days of introduction and retreat, and kind of hit the ground running," he said. "We had a few activities that we did during those days, and then we went up to North Carolina for the week for just a little time out in nature. A little bit of hiking and a little bit of whitewater rafting, and just time to have meals together and hang out, sit by the fire."
The second full week was in Vero Beach, where the seminarians spent time at St. Helen Parish to become familiar with its many ministries, Father Daza-Jaller said. A week later, they were taking part in the activities and work at St. Philip Benizi Parish in Belle Glade before taking a break for the Fourth of July.
The rest of the summer, he said, they planned to stay closer to home and get to know the work done at Birthline/Lifeline pregnancy care centers and the Lourdes Noreen McKeen Residence in West Palm Beach, along with several parishes.
Father Daza-Jaller explained the seminarians' summer activities are to get to know the diocese.
"As celibate diocesan priests, we're not single, we're married to the church. But we don't just marry the universal church. We marry the particular diocese that we live in," he said. "That's why we're diocesan priests. We belong to that diocese, and that's a very intimate bond."
Following the marital analogy, he said, "How can you marry a woman you don't know? So, it's important to get to know her. And it's good for the guys' discernment."
The time spent with the men also helps him to build a closer relationship with them, Father Daza-Jaller said.  
"The bishop has given me the task to kind of walk with our seminarians and be sure that their vocations are authentic, that they're receiving the formation they need and that they're making the progress they need to make," he said. "So, this gives me a really hands-on opportunity, and that's good."
When the Florida Catholic caught up with the seminarians and Father Daza-Jaller, they were at a School of Nazareth "Summer in the SoN" retreat July 5-9 for high school juniors and seniors at the Duncan Conference Center in Delray Beach. The school is a Catholic residential formation program for college students run by the Amoris Christi Institute that just moved into the Duncan Center. Father Daza-Jaller celebrated Mass July 7 at the retreat.  
The seminarians attending to help out at the retreat included Deacon Serge Dube, Jedidiah Preble, Jude Okeke, Dylan McKay, Tommy Ageeb and Saul Guerrero.
Ageeb said that, in the weeks he was able to participate in the summer activities, "we did a lot of brotherhood, fraternity building as well as moving to different parishes in our diocese. Father Daniel was just kind of giving us a sample of each area and what ministries that each of the parishes have."
Guerrero added that, at St. Helen in Vero Beach, "We got to help one of the days with the youth camp that they had there. It was just very beautiful to see how they have that hunger and thirst for the Lord. Also, in Belle Glade we got a taste for that as we helped at their camp as well."
They were both looking forward to attending a youth conference July 8-10 at Ave Maria University near Naples.
Father Daza-Jaller said the summer house activities have gone very well and the seminarians seem to be learning a lot about the diocese. "The opportunities that we've had have been great," he said.
To learn more about the programs of the diocesan Office of Vocations and Seminarians, visit its new website, https://palmbeachvocations.com/ or follow them on social media at @PBVocations.
To read this and other stories in Florida Catholic, click here.