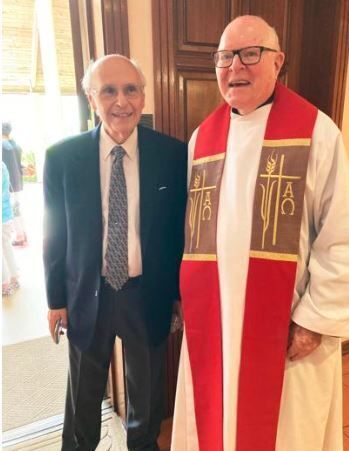 Anno Sjoerd Brandsma was born in the Netherlands in 1881 and, becoming a Carmelite priest, took the name "Titus" in honor of his father, Titus. A theologian, journalist and author, Father Brandsma opposed and spoke out against the anti-Jewish laws being passed in Nazi Germany before World War II. He was executed on July 26, 1942.
In November 1985, when Father Brandsma was beatified (declared Blessed) during a Mass in St. Peter's Basilica, Carmelite Father Michael Driscoll was in attendance. Along with Carmelites and others all over the world, Father Driscoll prayed many years for Blessed Titus's canonization. Being declared a martyr of the faith meant that one miracle would be required to proclaim Blessed Titus a saint.
In 2004, Father Driscoll, then-pastor of St. Jude Parish in Boca Raton, hit his head on a car window, which left a small, painful bump. After a biopsy, the results revealed that he had advanced metastatic melanoma, stage 4. Following major surgery on the aggressive cancer and 35 radiation treatments, his doctors told him that melanoma doesn't go away. It usually comes back to kill you, they said. Father Driscoll was given a relic – a small piece of fabric from Blessed Titus's clothing – that he prayed with and rubbed on his head and neck in asking for a miracle. Bishop Gerald M. Barbarito also asked the faithful to pray for the intercession of Blessed Titus. After years of checkups, Father Driscoll's doctors told him he was cured of the melanoma.
In 2016, the diocesan phase of the canonization cause began, which included interviews of witnesses such as physicians, Father Driscoll's family members and friends, and parishioners. Two local doctors also independently evaluated Father Driscoll's health. More than 1,300 pages of testimony was submitted to the Vatican in 2017. On Thanksgiving Day 2021, word came that Pope Francis had approved the determination that Father Driscoll's cure was a miracle attributable to Blessed Titus. Father Driscoll and others from the Diocese of Palm Beach joyfully attended the Vatican canonization Mass for St. Titus on May 15, 2022.
For more on the life of St. Titus Brandsma, visit www.ru.nl/titusbrandsmainstitute/.
To read this and other stories in Florida Catholic, click here.