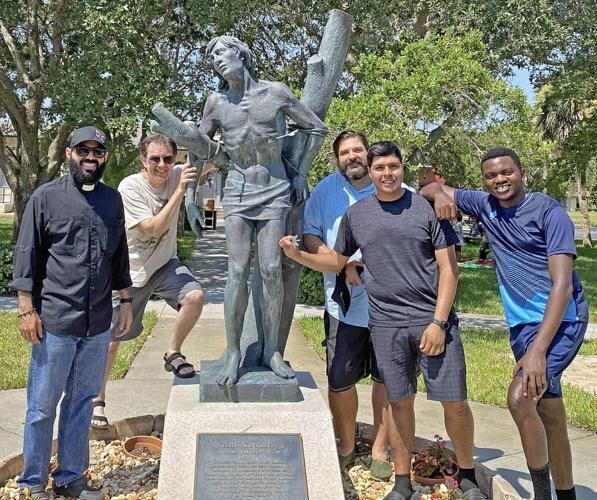 PALM BEACH GARDENS  |  The two new seminarians who are within two or three years of being ordained priests for the Diocese of Palm Beach have two things in common: they are older than most of their classmates and they contemplated entering a Franciscan religious order.
Along with their age has come a wealth of experiences that will serve them admirably as they approach ordination and beyond. Deacon Serge Dubé, who was born in Hartford, Connecticut, and spent most of his life in New England, is 57 years old. Jedidiah Preble was born in Sau Paulo, Brazil, and is 38.
DEACON SERGE DUBÉ
Earning his bachelor's degree in elementary education from Central Connecticut State University, later getting married in 1996 and moving to Florida a year later, Deacon Dubé taught at Rolling Green Elementary School in Boynton Beach for five years, Rosarian Academy in West Palm Beach for eight and a half years, and about nine years at Cardinal Newman High School, where he taught theology and assisted with campus ministry.
After college, when he was 24, he had begun the process of entering a Franciscan order, completing a pre-novitiate year in the Bronx, along with six months of novitiate in Brookline, Massachusetts.
"During my novitiate year, when we began to talk about taking temporary vows, I began to imagine ordination day, and each time I did so I did not feel or experience any joy," Deacon Dubé said. After taking some time off to think about the future, "I decided I would not return. I felt God was leading me to family life and not the priesthood."
In 2008, he entered the Deacon Formation Program of the Palm Beach Diocese and was ordained a permanent deacon in 2013. He served St. Peter Parish in Jupiter until this summer.
Deacon Dubé's wife, JoAnn, was diagnosed with pancreatic cancer in March 2019. He took a leave of absence and they moved to Los Angeles to be closer to the three adult children from JoAnn's previous marriage, who all live in California. JoAnn died Sept. 2, 2019, after which he returned to teaching at Cardinal Newman.
Before JoAnn died, he said, they talked about the various options for him. "I didn't think too much about anything the first two years after her death, but over the last year I followed her recommendation and came up with about eight viable options, and they were whittled down to two or three," Deacon Dubé said.
"I had been asking God for guidance, but then one day I asked God, 'What do you want me to do?' I knew as I finished the words, it was to pursue the priesthood," he said.
It is rare for a permanent deacon to become a priest after the death of his wife, Deacon Dubé said. He remembered being told during deacon formation that it most likely would never happen. But happily, he was given the green light by Bishop Gerald M. Barbarito, his pastor and vocational director. In June, Deacon Dubé began the summer house phase of priestly formation.
"The seminarians of the diocese come together to get to know each other and we traveled throughout the Diocese of Palm Beach to get to know the diocese better," he said. "We had an awesome experience visiting different parishes, the chancery, summer camps and ecclesial movements. There are many wonderful people doing many wonderful things, quietly and faithfully to promote the Gospel in our diocese."
After completing two weeks of orientation, Deacon Dubé has begun classes at St. Vincent de Paul Regional Seminary in Boynton Beach, moving toward eventual priestly ordination in 2024 if all goes as planned.
"My primary focus (at the seminary) is to surrender more and more to the will of God," he said. "I have been going at an intense pace since I entered the seminary the first time in 2008 and I hope to heal, catch my breath a bit, and slow down to more clearly hear God's voice and guidance so as to prepare for what he would like me to do as his priest."
Deacon Dubé also has begun to follow his spiritual director's advice to "pray each day and throughout the day, that my heart and mind is open to receive the love of God. I also hope to become more fluent in Spanish so that I may share the Gospel with our Hispanic community in the diocese."

JEDIDIAH PREBLE
One of seven children born to an American father and mother from Argentina, Preble moved from Brazil to the Washington, D.C., area of Maryland when he was 7. He learned English in the United States, and then he moved with his family to Argentina four years later. He stayed in South American until 1999, when the family moved to Salt Lake City.
Preble explained that his family moved to different places to be near members of his extended family. They moved to Brazil, where his dad got a job, so his mom could be closer to her family in Argentina. His dad's father was dying from cancer in Virginia, so they moved to Maryland to be near him. During that time, Preble said, his father still worked in Brazil but came home to Maryland once a month. He said his dad always tried to keep the family under one roof.
After earning a bachelor's degree in philosophy from the University of Dallas in 2006, Preble worked for a mortgage company before deciding he wanted to study veterinary medicine. He moved to Columbus, Ohio, to attend Ohio State University. After a year, he decided to discern the priesthood, which he had thought about since age 5.
At the University of Dallas, which is a Catholic liberal arts institution, he began to embrace the faith as his own. "That's where my loyalty started turning into love," Preble said.
He applied to a contemplative Franciscan community in a rural area and was accepted. After being there awhile, Preble realized he wasn't meant to stay. Since he was familiar with the Diocese of Dallas, he applied to the seminary there and started in January 2018.
His parents had moved to the Boca Raton area in 2000 ,and his mother, Constanza, is a receptionist at St. Joan of Arc Parish. In 2021, Preble decided it would be better for his family if he could move to Florida, so he requested to leave the Diocese of Dallas and join the Diocese of Palm Beach, a process that took three to four months, he said.
Along the way, Preble decided that he needed to take a methodical approach to discerning a vocation.
"I came up with a list of reasons, and I told myself that I would go back to them if I was ever wavering," he said. "I would go back and consider those reasons again to see if they're still true and what's changed."
In the first place, he had had a desire to become a priest since boyhood. "I've just been always attracted to the priesthood for some reason, serving at the altar, the mystery of the Mass, the liturgy, all those things just attracted me," said Preble, who is fluent in Spanish and English, and can speak some Portuguese, Italian and French.
"Another reason was that that desire was tied to important things that a priest does, which is namely the Mass and hearing confessions," both aspects of priestly life that fascinate him. Preble said he wanted to do the things that only priests can do.
Discussing the celibacy issue with a friend, he recalled saying how "most people think about giving up marriage, and they say how difficult it would be to give up marriage, you'd be missing out on so much. But my mentality was always, if I gave up the priesthood, I'd be missing out on so much." He is more willing to give up marriage than the priesthood.
"I go back to those reasons and I revisit them. I try to discern if they're still true. What I've realized about myself is that all those reasons are still true, but there's something a little bit deeper now after having been in seminary for a bit," he said.
His desire for the priesthood has evolved, Preble said. "Now it's a desire to conform myself more fully to Christ. I've come to appreciate more the identity of the priest over the things that a priest does."
Officially accepted as a seminarian for the Diocese of Palm Beach in March 2022, he moved to Delray Beach and began the process of starting classes at St. Vincent de Paul Regional Seminary. He has been assigned to take a pastoral year, working through May 2023 at the Cathedral of St. Ignatius Loyola, helping with the youth group on Sunday evenings, serving at Masses, giving short reflections after Communion a couple of times a week and accompanying priests on sick calls.
If all goes according to plan, Preble will be ordained a priest in 2025. In the meantime, he said, "I want to fall deeper in love. That's what I want to do."
To learn more about priestly vocations, visit https://palmbeachvocations.com/ or follow the Office of Vocations and Seminarians on social media @PBVocations. 
To read this and other stories in Florida Catholic, click here.