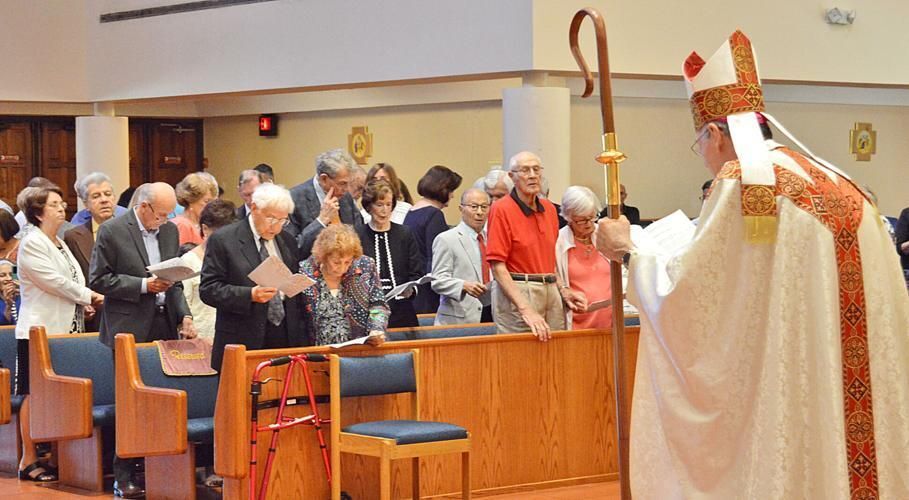 BOCA RATON | In the second of two special liturgies honoring couples married at least 25 years, Bishop Gerald M. Barbarito spoke of marriage being a gift from God centered on true love.
"Marriage is based on real fidelity and mirrors the fidelity of God to all of us," the bishop said in his homily for the Feb. 18 Mass at St. Jude Church in Boca Raton. He said five of the couples in attendance were celebrating 25 years of marriage, three marking 40 years, 10 at 50 years, 18 at 51 to 59 years, 13 at 60 years and 17 marking 61 or more, representing a total of 3,925 years.
Among the longest-married couples, Bishop Barbarito introduced three at 66 years — Leonard and Mildred Marino of St. John the Evangelist, Christopher and Jannett Mariani of St. Joan of Arc, and Tibor and Jeannette Donko of St. Rita — along with James and Joan Donahue of St. Jude in Boca Raton, 67 years; and two from St. Vincent Ferrer celebrating 72 years, Thomas and Anita Liguori and John and Clarise Engelhart.
One of the couples at the liturgy was Ange and Ann Moccia of Niagara Falls, Ontario, Canada, who attend Mass at Holy Name of Jesus in West Palm Beach during the winter months. They met in high school and will mark their 53rd anniversary in August.
Ann said their long union can be credited to "patience, a lot of understanding. But it starts out always with love."
Some couples aren't willing to endure the rough patches that are inevitable, she said. "They don't want to work through it. I think they go in with great expectations, but they're not willing to take the bad with the good."
Ange, which is short for Angelo, said, "An old-timer once told me, 'Treat your spouse like a guest and you'll rarely go wrong.' That stuck with me."
Speaking at the liturgy's conclusion, Carmelite Father John Horan thanked Deacon Louis Romero, marriage ministry coordinator, and others in the diocesan Office of Marriage, Family Life, Faith Formation and Youth Ministry for their work.
"We are so blessed to have so many wonderful people in the diocese at the Pastoral Center who do so much to make celebrations like this possible," he said.
"As the pastor of St. Jude, it is my great honor and pleasure to tell you how happy we all are here at St. Jude that we have been able to host this Mass," Father Horan added.
Afterward in the social hall, while couples had their pictures taken with Bishop Barbarito, many reminisced about the challenges they endured through the years.
Dr. Anthony and Marge Dardano of St. Jude in Boca Raton, who are marking 60 years, said they feel blessed to still be together and able to do the work they feel called to do. As an obstetrician-gynecologist, Marge said, her husband was away from the family a lot. So, she went to a lot of activities by herself with their two children and some people thought they were divorced. But Marge did what was necessary to keep their family thriving.
Anthony, who teaches classes at St. Vincent de Paul Regional Seminary besides being medical director at Delray Medical Center, said he told the seminarians recently in a class on marriage and human sexuality that, despite the adage that marriage is a 50/50 proposition, "Sometimes it's 70/30 or 60/40."
"I got up there in front of the seminarians and said, 'Well, you know, I've been married 60 years and I'm not an expert — yet.'" The doctor added, with a dose of humor: "But I said, 'It's no accident that marriage is a sacrament. Without the graces, we would have murdered each other long ago.'"
For information on marriage programs in the Diocese of Palm Beach, visit www.diocesepb.org/ministriesoffices/ministries/marriage-family-life-faith-formation-youth-ministry/marriage-ministry/. To see upcoming events of all types, go to www.diocesepb.org/news/.