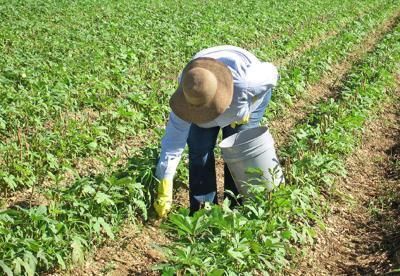 PALM BEACH GARDENS | For three years in a row, the Knights of Columbus Blessed Mother Council 13338 at Emmanuel Parish in Delray Beach has contributed $500 checks to Florida Catholic Media's 18th annual Long Sleeve Relief Drive that aids farmworkers in the state. It was an advertisement in the newspaper that made them aware of the drive, said past council trustee Dominic Scaduto.
His Knights council donates funds to many local charities, he said, to support a variety of different causes. Scaduto saw the ad for the Long Sleeve Relief Drive and thought it would be a worthy project, and the council's officers agreed.
"When it came up then, they all agreed how worthwhile it is, and said, 'Let's put it in the budget so that every year we would be able to make a contribution.' And that's the way it developed," Scaduto said.
The Lenten drive aims to collect clean used or new, cotton, long-sleeve shirts that can be worn in agricultural fields and will protect workers from the sun and pesticides. The effort also raises awareness about the conditions that farmworkers face and the vital role they play in the nation's economy. Money donated to the drive supports farmworker aid organizations that partner with Long Sleeve Relief.
Scaduto said the Knights are glad to assist the farmworkers, who help put food in stores and dinner tables. Generosity is part of the credo of the Knights of Columbus, he said.
"It's charitable, certainly, and I think the fact that the Florida Catholic endeavored to support the farmworkers program is fantastic. All that we do is give a contribution," he said.
From Ash Wednesday to Holy Thursday (April 6 this year), readers of the Florida Catholic are urged to participate in the Long Sleeve Relief Drive by praying for its success and donating light-colored long-sleeve shirts (men and women, all sizes). 100 percent cotton is preferred but not required.
In the Diocese of Palm Beach, shirts can be dropped off at:
• Catholic Charities' St. Francis Center, 100 W. 20th St., Riviera Beach, Monday through Friday, 9 a.m.-4 p.m.; call 561-360-3327.
• Catholic Charities' Stuart office, 3232 S.E. Dixie Highway, Stuart, Monday through Friday, 9 a.m.-4 p.m.; call 844-848-6777.
• St. Joseph School, 1200 E. 10th St., Stuart, Monday through Friday, 9 a.m.-4 p.m.; call 772-287-6975.
• Farmworker Association of Florida, 29 S. Maple St., Unit A, Fellsmere, Monday through Friday, 10 a.m.-7 p.m.; call 772-571-0081.
The Farmworker Association also requests the following items: children's clothing, diapers and baby supplies, household items and children's toys, and food, such as beans, rice, tortillas, corn flour, cooking oil and canned soups.
Those who participate in the Long Sleeve Relief Drive are asked to contact Kristen Maheu, Florida Catholic Media's business manager, at lsr@thefloridacatholic.org, 407-373-0075 or toll-free at 1-888-275-9953. To make a monetary donation, make the check payable to Florida Catholic Media and mail to: Long Sleeve Relief, P.O. Box 4993, Orlando, FL 32802-4993.
For information on the drive, visit https://www.thefloridacatholic.org/news/advocacy/long-sleeve-relief/.