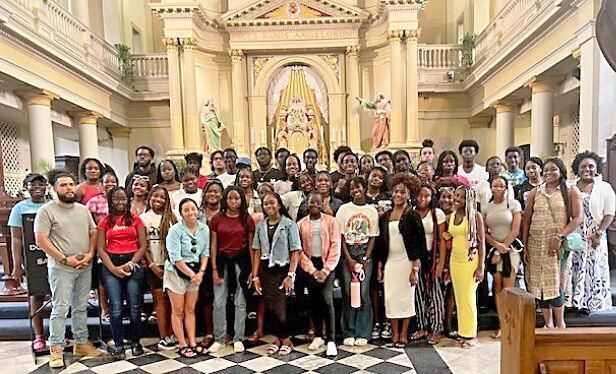 LAKE WORTH BEACH | "Restore" was the theme of a mission trip to New Orleans in July by 40 teenagers from Sacred Heart Parish in Lake Worth Beach. Judging by their reactions, it sounds like the teens experienced their share of restoration.
Salome Mondelus, director of youth ministry at the parish, led the group with 10 chaperones to "The Big Easy" July 17-20, 2023, to repair homes and help struggling residents.
"The trip was a great experience for the kids because the reason of that mission trip was to invite them to act in ways that witness to the promise of God," she said. "They had the chance to 'restore' not only homes but themselves by transforming lives and communities through home repair and community service projects.
"Besides going to the worksites every day, in the evening we had conference talks, small groups, games and — the best part — the kids were not allowed to have their phones. They spent a week with no phone distractions, which helped them connect more with each other," Mondelus said.
One of the youth group members, Minooka Bureau, said it melted her heart to interact with the grateful homeowners. "Even though it was extremely hot, seeing their faces gave us all the courage to continue our work," Bureau said. "Besides the missionary work itself, the staff gave us influential and outstanding talks about their lives that aid us to restore our faith and love for Jesus."
Dylan Driscoll, who helped an elderly woman and a retired priest clean out their homes, said the journey helped him see the needs of others. "The trip impacted my faith. It shows that Jesus works within us to bring happiness to others and, just with a little bit of kindness, God can do amazing things," he said.
Mondelus said the youths paid part of the cost and received support from parish benefactors and Father Jean Boulin, Sacred Heart's parochial administrator. Besides attending daily Mass and having an opportunity for Eucharistic adoration and the sacrament of penance, they were able to visit the city's French Quarter and experience a bit of Louisiana culture.
When Iveline Exantus first heard about the mission trip, she feared that it meant heading to a wilderness without air-conditioning. "I am glad to say that it was nothing like that. It was a one-of-a-kind experience that I am glad I had the opportunity to participate in," she said, adding that the games and other group events were fun.
"These activities, along with the work we did on people's homes, impacted me," Exantus said. "It taught me to be grateful for what I have and to thank God for everything. My relationship with God has become stronger than ever since I came home."
Jerry Geffrard, who helped repaint a house damaged in the aftermath of Hurricane Katrina, said he and the other teenagers spoke in small groups about their high, low and God moments of each day. "It was a way for us to reflect on our journey toward helping others," he said.
One of his high points during the trip was Eucharistic adoration. "Seeing the embodiment of Jesus right in front of our eyes was a touching moment. This trip definitely had an impact on me and has helped me become closer to God," Geffrard said.
Overall, the mission journey went well, Mondelus said. "The message I wanted to pass along to the kids is that, as Christians, we are called to serve the people around us and to always try to give back, because it's not how much we give but how much love we put into what we are giving. As Mother Teresa said, 'We can do small things with great love.'"
For more information on Sacred Heart Parish, visit https://sacredheartchurchfamily.com/, call 561-582-4736 or follow on Facebook.