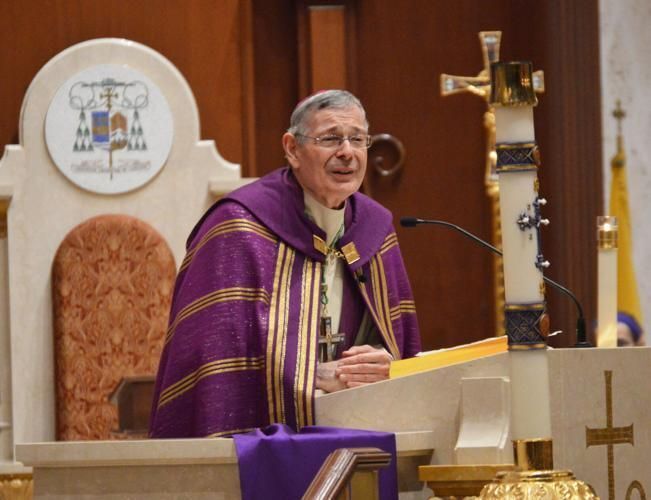 PALM BEACH GARDENS | On Aug. 28, the Diocese of Palm Beach will celebrate the 20th anniversary of Bishop Gerald M. Barbarito's installation as its chief shepherd. To mark the occasion, he talked recently in a wide-ranging interview about his life as the longest-serving bishop of Palm Beach, his memorable work, pastimes and interests.
For anyone unfamiliar with Bishop Barbarito's life and service to the Catholic Church, he is a native of Brooklyn, New York, where he was ordained a priest in 1976. He served in parish and diocesan positions in the Diocese of Brooklyn, and was ordained an auxiliary bishop there in 1994.
In 1999, he was appointed by St. John Paul II as bishop of the Diocese of Ogdensburg, where he was installed in January 2000. After a relatively short tenure in Ogdensburg of about three and a half years, Bishop Barbarito was named as the fifth bishop of Palm Beach and installed Aug. 28, 2003.
"The 20 years here have gone by so quickly," he said. "I just can't believe how fast they've gone.
"The experience of all the places — of my home, Brooklyn, of Ogdensburg and here — is that people are people. Life is life. And while it may be three very different places, when you're dealing with people as a priest, you're dealing with the same basic goodness of human nature, challenges of human nature, the dark side of human nature. All the things that are part of life. But it's just wonderful to be a priest and to be a father. That's what has been a joy," the bishop said.
It was a blessing to be a priest and bishop in Brooklyn, which is the largest U.S. diocese in population (1.5 million Catholics) in the smallest area (178 square miles), he said. Then he moved to Ogdensburg, which is a much less populated diocese in a remote location bordering Canada with about 12,000 square miles.
"But it was beautiful country," Bishop Barbarito said. "We would travel through the Adirondack Mountains. Just gorgeous, and it was wonderful being up there. It was very easy to adjust. I felt like it was home pretty quickly."
Coming to the Diocese of Palm Beach was a different sort of adjustment, he said. When learning of Bishop Barbarito's transfer, one friend joked that he was moving "from Canada to Cuba" — to the geographic peripheries that Pope Francis often talks about. The shock of his move was eased by newfound friends from New York.
"When I came here, the very first day, I ran into so many people at the airport, at the parish center, who were from New York, talking about places in Brooklyn and where to buy the best tomatoes in Brooklyn. I realized that coming to Florida was what so many others do," he said.
One part of the bishop's ministry that he treasures is getting to know and serve with his priests.
"For me, one of the greatest experiences, as I've always said, that my priority in terms of who I am and what I do as a bishop, is the priests," Bishop Barbarito said. "Over the years, it's been a wonderful experience to get to know the priests, at this stage to have ordained so many of them. And now many of the ones that I've ordained I'm naming as pastors. That's a great experience, to know them personally and who they are, and to see their love for the priesthood and their love for the people and their love for the church."
In leading his flock, he strives to embody his episcopal motto, Veritatem Facientes in Caritate, which is Latin for "Living (preaching or professing) the Truth in Love," from Ephesians 4:15. "Living the Truth in Love" is also the name of his weekly column in the Florida Catholic.
"I consider that so important. That's why I picked it as my episcopal motto because what we're all about is love and the truth," Bishop Barbarito said. "But the truth is not separate from love, and love is not separate from the truth. So, we always act in love when we proclaim the truth and live the truth."
When a priest is named a bishop, one of the immediate details that he tackles is choosing a motto and creating a coat of arms. Bishop Barbarito vividly recalls having to make some quick decisions in 1994.
"You don't have a lot of time to put together your motto as well as the coat of arms because all of a sudden you get this phone call and you're named a bishop and then you've got a million things to do," he said.
At the end of the day, when the bishop heads to his house next to the Cathedral of St. Ignatius Loyola and diocesan Pastoral Center, he enjoys spending time with a good book or listening to music.
Some of the books that he highly recommends are "spiritual classics" that help form and bolster the Christian faith. A few of those literary works that he mentioned include:
"The Way of a Pilgrim," which he mentioned in a Florida Catholic column earlier this year, about following St. Paul's advice to "pray without ceasing." "The pope refers to that book frequently and he recommends it," the bishop said.
"The Story of a Soul," the autobiography of St. Thérèse of Lisieux: "She writes about her life, before and in the convent. It's just incredible in terms of the spiritual insights that she had. Even though she was such a young person, going straight from her home into the convent," he said.
"Excellent book for understanding the spiritual life, the different parts of it, the simplicity of life, the goodness of life and our faith," the bishop added.
A similar book, but very different in its substance, is "Introduction to the Devout Life" by St. Francis de Sales, which teaches that holiness is for everyone. "The great thing about that is, that's what he's talking about, that holiness is not just for being in a monastery or being in a convent. It's meant to be lived day in and day out. He addresses that in a way that everyone can understand," Bishop Barbarito said.
Another classic that he loves is "The Imitation of Christ" by Thomas a Kempis. "It's got great insights into a relationship with Christ," he said.
"The Cloud of Unknowing" is about a pilgrim developing a personal relationship with God without using words. "As with 'The Way of a Pilgrim,' it's putting yourself in the presence of God, where we just be in his presence. That's what 'The Cloud of Unknowing' is about," he said.
When Bishop Barbarito has had time to read novels, he enjoys Russian authors like Fyodor Dostoevsky, whose works are also often mentioned by Pope Francis. The bishop, as a member of the Metropolitan Museum of Art in New York, also loves visual art, such as religious paintings depicting the Trinity called "Throne of Mercy."
His favorite genre of art is from the Netherlandish period of the 15th and 16th centuries, which features ornate, eclectic images that excel in their vibrant detail. The equivalent of Netherlandish art is Baroque music, especially the works of George Frideric Handel and Johann Sebastian Bach, along with later works by Ludwig van Beethoven. "I love classical music. I love all music, but I particularly like Baroque music," Bishop Barbarito said.
"And I like jazz, too. Oh, America jazz is a great, great part of our heritage, and a great part of the life of the Black community within our nation," he said, adding that he wrote a Florida Catholic column in 2017 referencing his knowledge of jazz music.
In the column, titled "Pope Francis takes the A Train," Bishop Barbarito deftly connected the pope's constant admonition to go out to the peripheries to reach all people, similar to the slice of population encountered in the New York subway system.
Referencing the 1939 jazz hit by Duke Ellington, with lyrics by Billy Strayhorn, the bishop wrote: "'Take the A Train's' lyrics, with the words, 'If you miss the A Train you'll find you miss the quickest way to Harlem,' remind us today of the wealth that comes to our country through the cultures and experiences of so many immigrants who may seem on the periphery of our nation but are actually what our nation is all about."
He continued: "Only by going to the peripheries, as the pope of the periphery invites us, especially to the periphery deep inside of ourselves, do we find the presence, the mercy and the joy of God."
To learn more about Bishop Barbarito's ministry, visit www.diocesepb.org/about-us/bishop/.
To read this in the Florida Catholic, click here.