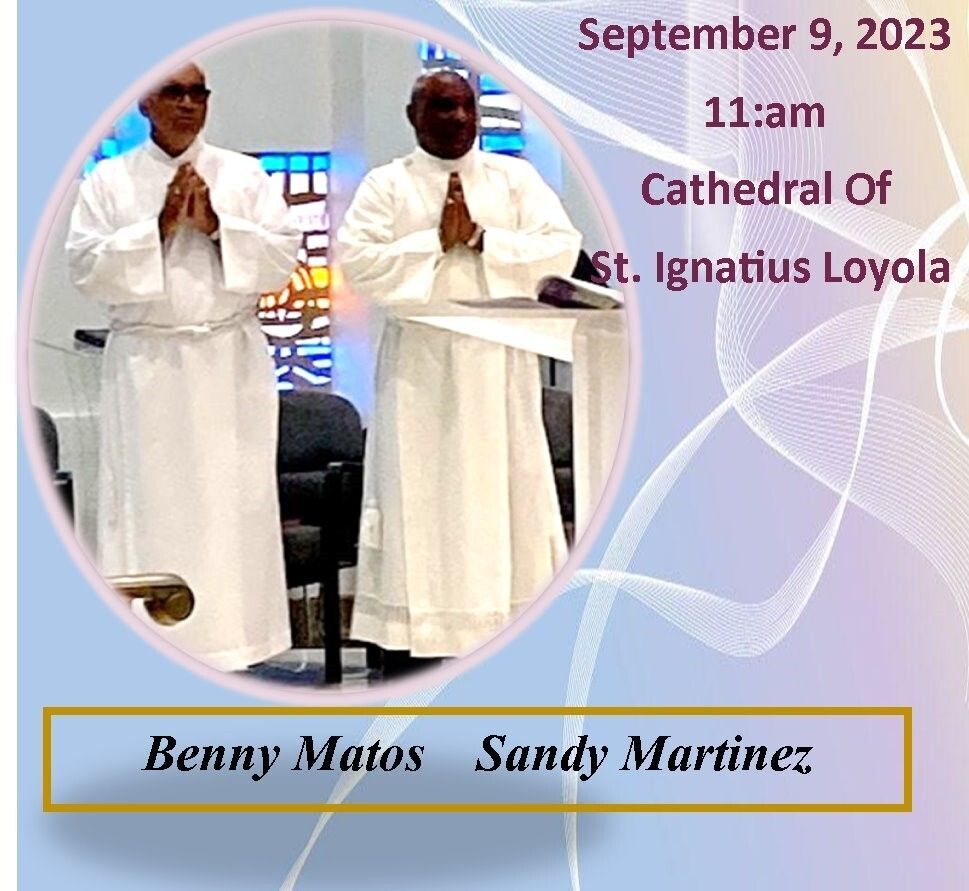 PALM BEACH GARDENS | The two men who will be ordained to the permanent diaconate Saturday, Sept. 9, at the Cathedral of St. Ignatius Loyola have taken very different paths, but the common denominator is their desire to serve the church and further the kingdom of God.
Bishop Gerald M. Barbarito will ordain Sandi Martinez and Benny Matos at an 11 a.m. Mass attended by priests, deacons, religious and faithful of the Diocese of Palm Beach. The bishop will, no doubt, remind the two men of the three functions of a deacon, that of word, sacrament and charity. As explained on the U.S. Conference of Catholic Bishops website (www.usccb.org/beliefs-and-teachings/vocations/diaconate/faqs):
"As ministers of word, deacons proclaim the Gospel, preach and teach in the name of the church. As ministers of sacrament, deacons baptize, lead the faithful in prayer, witness marriages, and conduct wake and funeral services. As ministers of charity, deacons are leaders in identifying the needs of others, then marshaling the church's resources to meet those needs."
Deacon Pete Del Valle, director of the diocese's Permanent Diaconate Formation program, said the men are ready to serve.
"I find myself feeling a sense of joy and satisfaction as the diaconate ordination approaches," he said. "Joy in the fact that both Benny and Sandi are well prepared to serve the people of God. They are both very pious men and have a deep personal spirituality that will guide them in their diaconate ministry. We are blessed to have them ordained into the permanent diaconate on Sept. 9."
During recent interviews with the Florida Catholic, Martinez and Matos talked about their lives, including their journeys toward ordination as deacons.
SANDI MARTINEZ
Martinez, 52, who is director of the diocesan Marriage Tribunal, was in formation almost 11 years to become a priest in his native Dominican Republic and the United States when he left the seminary in 1999.
He later became the father of three children and began working at the Tribunal, while remaining active in parish ministries, first at Sacred Heart in Lake Worth Beach and then at St. Luke in Palm Springs, his current parish. His three children are now grown, with one having recently graduated from college and the other two being college students.
"It was important to me that I passed on the faith to my children and nurtured them in a loving family life. Faith and family are the center of my life."
Martinez and his wife, Tomasa, both felt that the timing was right to enter diaconal ministry. "Once my kids grew up and were independent, that's when I said, 'I think it's time now to go back to my calling and see if I can do this. It has been always on my mind, but I just took a break from thinking about it until I was ready."
To complete his formation for the diaconate, Martinez returned to St. Vincent de Paul Regional Seminary, the same institution where he had studied for the priesthood and received his master's degree in theology. He attended weekend sessions and did his practicum sessions for the sacraments, especially baptism and marriage, and benediction, rituals that he will celebrate frequently in the future. He gratefully acknowledged, "But it all involves service and care for the people of God."
Besides the encouragement of his wife, Tomasa, his family — including his sister, mother and brother — has been waiting for him to become a deacon. "They knew me from being in the seminary, so for them I was going to be a priest. But I took a different path, and it has led me to this moment. Everybody has been very supportive," Martinez said.
"I think it's time for me to continue serving more fully and put into practice what the life of a deacon is — service," he said. "That's what I want to continue doing."
BENNY MATOS
Matos, 61, who attended an all-boys high school in South Orange, New Jersey, said he felt a strong calling to become a priest in his junior and senior years. But he didn't pursue the priesthood at that time. Now he has five children (ages 39 to 15) with wife Carla, along with five grandchildren.
A New Jersey state trooper for 25 years, who worked as a pilot the last 11 years on the job besides flying as a contract and charter pilot. Matos retired in 2011 and moved the family to Florida, where they attend Our Lady Queen of the Apostles in Royal Palm Beach. Walking into that church for the first time, he said it just felt like home.
Within a year, Matos became active in the Knights of Columbus and involved with the parish religious education program, Eucharistic ministry, youth ministry and as a lector. After four or five years, he was asked by Father Andy Rudnicki, pastor of Our Lady Queen of the Apostles, if he had ever thought about becoming a deacon. The diaconate had been on Matos' mind since he was approached about it by a priest in New Jersey several years earlier.
"It was no surprise to anyone in my family that I answered the call to become a deacon because after I answered the call and told them I was entered the seminary, what I mostly heard was 'Yeah, I always knew that would happen with you,' or 'I knew this was going to happen,'" he said.
Taking classes at the seminary has been part of "a life-changing journey" of six and a half years, Matos said. "St. Vincent de Paul Seminary is just an exceptional place to be. The priests and laypeople who teach there are unbelievable and just extraordinary people. Their hearts are in the right place to train and teach us, to give us spiritual guidance."
Approaching ordination, he said he feels "a sense of heaviness on me, but it's a good heaviness. It's a heaviness of tremendous responsibility." Matos is looking forward to ministry to young people, who often feel comfortable speaking with him.
"They're so troubled. Because I have five and I've seen my children being born in literally different generations," he said. "There's a vast difference between the way my 15-year-old acts and the way my soon-to-be 40-year-old acts."
Matos also feels some of the "bumps" encountered in his life journey may be instructive for others. One of those lessons took place here when he began working as a flight instructor, which he did for seven years, training pilots from all over the world. After entering the diocese's Permanent Diaconate Formation Program, Matos said he felt under attack by his employer, which made it difficult to continue in the formation program. He was forced to decide: continue in that high-paying aviation job or become a deacon. He quit the job to keep pursuing the diaconate.
Matos said he felt the Lord would take care of him and his family. It was a big leap of faith, which he took without hesitating. "Well, within one month of quitting my job, I was able to find a job with the Knights of Columbus as a field agent. Something I'd never done before, which is financial services," he said. Also in that month, he passed the state-required test, his wife passed her state test to become a teacher, their young son was accepted at a local performing arts school, and their youngest daughter received a full Bright Futures scholarship.
Those occurrences "completely vindicated my decision and showed to my family that, when you put your trust in the Lord, he will always take care of you." Now, almost six years later, with his graduation from the seminary, Matos is starting a new aviation endeavor that will support his activities as a deacon.
"It's like the Lord said, 'You've been a great servant, you did what I asked you to do, you're going to be a deacon and here's your aviation career back again," he said.
Matos said he prays that the Holy Spirit gives him the right words to say as a deacon.
"That's how I look at all of this. It's not about me. It's more about helping others. That's where my heart is," he said. "That's why I became a police officer, to be honest with you. That's why I always wanted to serve and help others."
Deacon Del Valle said that Martinez and Matos have been assigned to serve their respective parishes as deacons: Martinez at St. Luke and Matos at Our Lady Queen of the Apostles.
To learn more about the diocesan Permanent Diaconate Formation program, call the office at 561-775-9540 or email pdelvalle@diocesepb.org.
To read this and other stories in Florida Catholic, click here.