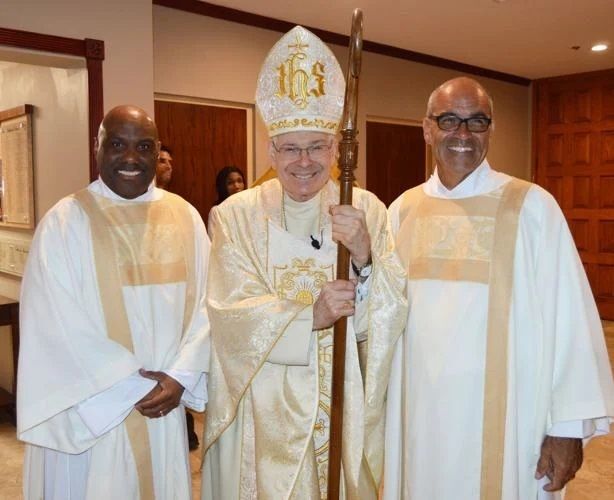 PALM BEACH GARDENS | At the ordination of two new permanent deacons for the Diocese of Palm Beach Sept. 9, 2023, Bishop Gerald M. Barbarito urged them to be men of prayer and listen to God's promptings, just as they heard the Lord's call to be servants for his kingdom.
During Mass at the Cathedral of St. Ignatius Loyola, the bishop ordained Deacon Sandi J. Martínez and Deacon Benny Matos in front of their family members and friends, priests and fellow deacons. "We're very, very pleased to be ordaining them this morning, and a warm welcome and thanks to their wives and their families who are with us and will continue to assist them in their ministry as they have been so supportive of them in their formation for the diaconate," Bishop Barbarito said.
"We thank God for the gift that we are receiving this morning in these new deacons, and we thank God for all of our deacons and priests, and we ask the Lord to help us as we celebrate this occasion, the call he gives to each and every one of us," he said. "Very different to each and every one of us, but a call — a call to cooperate together and build up his kingdom."
As part of the ordination rite, the two men were presented to the bishop as diaconate candidates. Announcing his acceptance, the bishop said, "Relying on the help of the Lord God and our Savior, Jesus Christ, we choose these men, Sandi and Benny, our brothers, for the Order of the Diaconate."
In his homily, Bishop Barbarito referenced one of Pope Francis' recent talks in Portugal. During a vespers prayer service for bishops, priests, deacons, consecrated men and women, seminarians and pastoral workers, the pope spoke about essential habits for those who work for the church.
"My brothers, Sandi and Benny, the words which the pope spoke are most appropriate for you today as you are ordained deacons and become servants through the sacrament of holy orders," the bishop said. "Indeed, they are applicable for all of us. All of us in holy orders, as well as all of us as members of the church and in service to the church."
Bishop Barbarito referred to those habits as the three C's: courage, cooperation and compassion. He emphasized that deacons carry out their ministry with everyone else in the church. "No one of us is involved in an individual ministry. It's not my ministry; it's our ministry; and our ministry is the Lord's ministry," the bishop said.
"May the Lord, who begins his good work in you today, continue to bring it to fulfillment," he added, before receiving affirmative answers from the two men on their desire and willingness to be ordained as deacons and fulfilling those responsibilities. After promising obedience to the bishop and his successors, the men lay prostrate on the cathedral floor while the congregation sang the Litany of the Saints.
The rite continued with Bishop Barbarito invoking the Holy Spirit while laying hands on the men's heads, praying the prayer of consecration and having the new deacons donning the stole and dalmatic, which are the liturgical vestments of deacons. The bishop then presented the Book of the Gospels to the men, instructing them to be heralds of the Gospel. Concluding the rite was the kiss of peace from the bishop, priests and deacons in attendance.
Following the liturgy, as well-wishers gathered with the new deacons inside the cathedral because of heavy rain outside, their wives talked about the joy they were feeling.
Tomasa Jiron, Deacon Martínez's wife, said, "It's amazing. I'm feeling great, very blessed. We want to do whatever God wants to follow him. I'm going to support my husband with whatever he needs, by his side. I'm happy for him and for me."
Deacon Matos' wife, Carla Matos, said they have felt that God was beside them during formation for the diaconate, and she has been beside her husband. "I'm his partner. The ceremony was just so beautiful. A good, positive, beautiful beginning, and we want to keep it that way."
As the rain subsided, parishioners headed to the cathedral's Family Life Center for a reception. Gathered there was Archimandrite Glen Pothier, who is judicial vicar for the diocese and works with Deacon Martínez in the Tribunal. Father Pothier said he is so proud of his friend, whom he has known since 1996.
"To see him complete this is just an awesome experience for me. And, as you know, I am the godfather to so many of his kids, so I get to experience that as well. I'm very happy for him and for his family," he said.
Both deacons were to assist at Mass the next day at their parishes — Deacon Martínez at St. Luke in Palm Springs and Deacon Matos at Our Lady Queen of the Apostles in Royal Palm Beach.
Deacon Pete Del Valle, director of the diocese's Permanent Diaconate Formation program, said he felt like a "proud papa" who is excited to see the tasks taken on by both men.
"They're very different men, but they're very spiritual, very holy men," Deacon Del Valle said. "I think that Sandi is really going to make an impact in the Hispanic community. And Benny, he does speak Spanish and I think he's going to be pushed in that direction, but I see Benny dealing more with people who are in hospitals, with wake services and funerals and things like that. Benny has a very strong personality, but his compassion shines through. So, I think he's going to do a wonderful job in that area."
With 14 men currently in formation to become deacons, he said a group of seven, God willing, will be ordained in two years. Another class of seven will be ordained later, and he is starting to form the next class of men to begin formation in 2024. At the reception, Deacon Del Valle basked in the glow with the new deacons and their friends.
"I'm very proud of them. I'm really happy. They're very holy and pious men. I promised the bishop that I would only present good, holy, pious and spiritual men to him. I think we did that with these two men," he said.
To learn more about the diocese's Permanent Diaconate Formation program, call the office at 561-775-9540 or email pdelvalle@diocesepb.org.
To read this and other stories in Florida Catholic, click here.