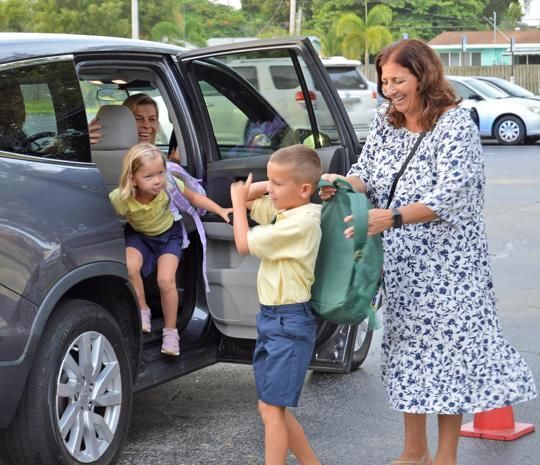 NORTH PALM BEACH  |  Smiles were mixed with tears.
The first day of school is a hectic, emotion-packed time for students, parents and educators. The combination of anxieties, relief and fatigue can make for a rough few days.
Rita Kissel, principal of St. Clare School in North Palm Beach, spoke with the Florida Catholic Aug. 9, 2022, as students began returning to their classrooms.
"There's a lot of buildup over the summer," she said. "We're here all summer, preparing for everything, purchasing everything, cleaning everything, fixing everything."
The 2022 summer projects at St. Clare included remodeling the parish hall with new paint, blinds, kitchen countertops and bathroom countertops, Kissel said. They also air-conditioned four student bathrooms, replaced other air conditioners and painted what needed it.
On Aug. 8, St. Clare had its Meet the Teacher event, where students and parents got to see their classrooms and bring their supplies. There also was a used uniform sale. 
"Yesterday was a great day, and at the end of the day I walked around and asked the faculty how it went and they said, 'Great. Great families.' Really positive," she said. "I was in the parish hall most of the day and we got a lot of nice comments about our new teachers. That's really uplifting and what we want, so it has me in a good frame of mind for beginning the day."
At St. Clare, as with most schools in the area, several teachers are new, either from another school or brand-new to the profession.
"We have new teachers because getting teachers is hard," Kissel said. "Not everyone wants to do it anymore. It's tough. And even here, a faith-based community, where it's a lovely place to work. We have wonderful people working here who are all here because they want to be, not just because they need a job. But finding people is tough.
"It's a learning and a growing process every day. Even for me," she said.
With student enrollment at more than 400, Kissel is looking forward to welcoming parents to Back to School nights Aug. 24 and 25 and building solid relationships with moms and dads.
"The parent relationship is really important to me, so we work hard at that," she said. "Communication and creating good relationships with parents, because, if we don't have that, it's hard for their child to be happy and for the teacher to do what they need to do. We're excited to get to know the new parents."   
A sign of continued easing of COVID-19 restrictions is the fact that parents are again invited to attend school Masses, Kissel said. 
The school's mission statement emphasizes that students at St. Clare are there to learn, lead and love, which is tied to the Leader in Me concept from Stephen Covey, author of "The 7 Habits of Highly Effective People."
"We subscribe to that and teach our kids those seven habits and use them to help them be leaders of themselves, of others or whatever in their life," Kissel said.
She recalled that, at the eighth grade graduation in June, a mother thanked her for the Leader in Me program, which the woman credited for the behavioral transformation of her eighth-grader. 
"That was rewarding because that was the first time a parent said it to me," Kissel said. "That's a great thing that we do here. And of course, love is the faith part, and that's what we're trying to teach kids, to be good people and go to heaven."
To learn more about St. Clare School, visit https://www.stclareschool.com/ or call 561-622-7171. For information on all schools in the Diocese of Palm Beach, go to https://www.diocesepbschools.org/ or call 561-775-9500.
To read this and other stories in Florida Catholic, click here.