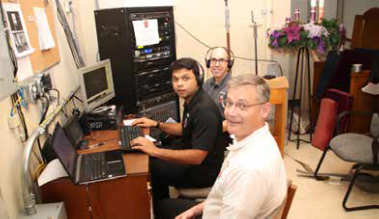 BOYNTON BEACH - It is incredible how important video conferencing and livestreaming have now become in our day-to-day lives.
Before the COVID-19 pandemic, it was nice to Facetime with friends and family, yet some saw this as a hassle. Now, during the pandemic, we realize and appreciate the great importance of sharing our lives with others in the community. While we are here inside our "bubble" at St. Vincent de Paul Seminary, we continue to miss this aspect of community in our lives.
A big question became clear once the pandemic began: Now that we are unable to go outside, how can we reach out to our family and friends from inside the seminary itself? One very important aspect in the life of a priest is serving and ministering to the people of God. When the people we serve are just out of reach, what are we to do?
One of the answers came in the form of the Live Stream Team. The goal of the Live Stream Team is to assist with bringing the outside world into our home on the seminary campus. While we would normally be opening our gates to the public for events such as Family Weekend, Friends of the Seminary and our Wednesday public Masses, the Live Stream Team has been diligently working on sharing the events of the Seminary with the community.
To read the full Florida Catholic Media article, click here.