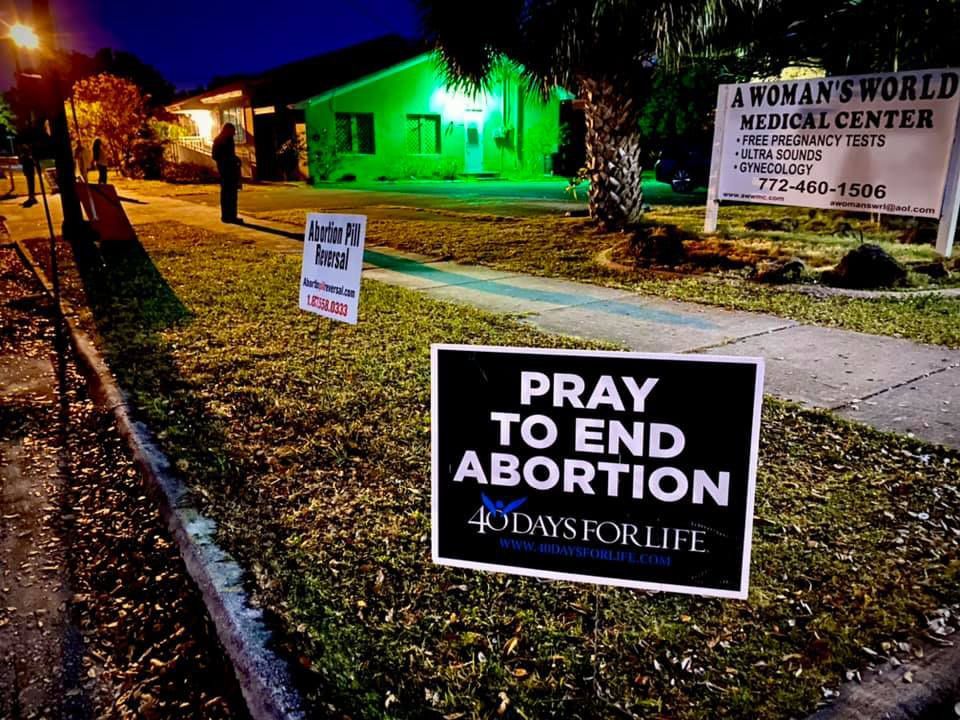 PORT ST. LUCIE - Heather Grall Barwick, 40 Days for Life leader in Port St. Lucie, shared with the Florida Catholic a story from a volunteer who regularly participates with her as a sidewalk advocate outside A Woman's World abortion clinic. The volunteer's name has been omitted for privacy and the story has been edited for clarity.
"While my wife and I were there (A Woman's World abortion clinic) for our usual time on Tuesdays, I noted that a lawn maintenance crew was working across the street at the Pregnancy Care Center. I was praying near the front door when I was startled by a tap on the shoulder. A young man from the lawn crew said, 'Are you praying?' I said 'yes,' and that I would be happy to move to another area while he trimmed (the grass). He replied 'No, may I pray with you?' That was my first experience of a passerby stopping to pray with us. I asked him to please join me by all means. After we established that I wasn't praying the rosary (the young man was not Catholic), we agreed that God would hear both our prayers. We stood together and prayed for a few moments, chatted a little, and agreed that this was an evil place and needed all our prayers. That was a godsent young man, and a wonderful experience."
Does your sidewalk advocacy group have a story to share about its pro-life work? Email Cecilia Padilla, Florida Catholic reporter for the Diocese of Palm Beach, at cpadilla@diocesepb.org or call 561-775-9528.
Photo: In the background, a sidewalk advocate from 40 Days for Life in Fort Pierce stands in prayer outside a Woman's World abortion clinic. (COURTESY)