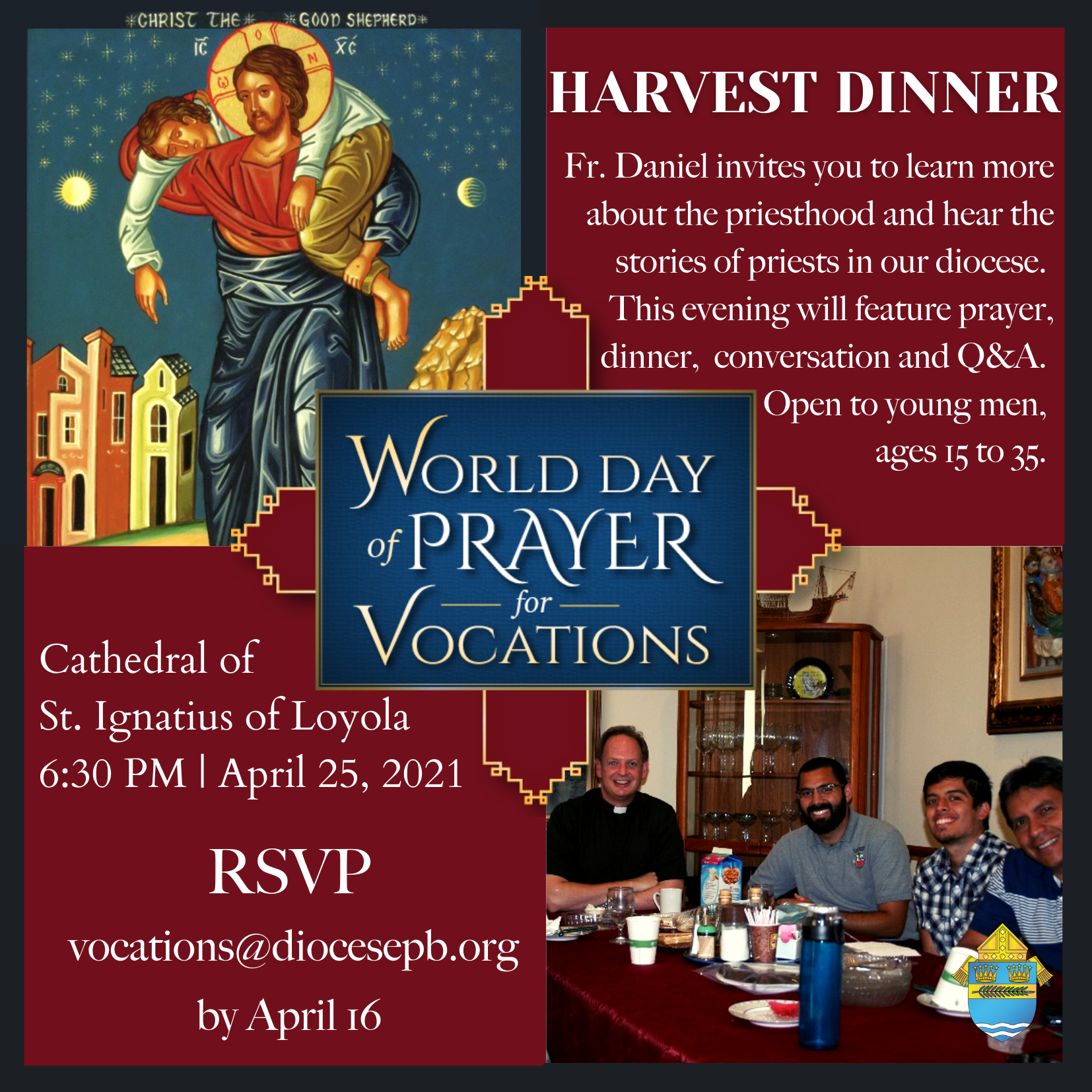 April 25, 2021, marks the 58th anniversary of World Day of Prayer for Vocations, also known as Good Shepherd Sunday. The U.S. Conference of Catholic Bishops stated that the purpose of World Day of Prayer for Vocations is to publicly fulfill the Lord's instruction to, "Pray the Lord of the harvest to send laborers into his harvest" (Mt 9:38; Lk 10:2). 
The conference describes this World Day of Prayer as an affirmation of "the primacy of faith and grace in all that concerns vocations to the priesthood and to the consecrated life. While appreciating all vocations, the Church concentrates its attention this day on vocations to the ordained ministries (priesthood and diaconate), consecrated life in all its forms (male and female religious life, societies of apostolic life, consecrated virginity), secular institutes in their diversity of services and membership and to the missionary life."
The Office of Vocations and Seminarians for the Diocese of Palm Beach will participate in this world-wide celebration of vocations with the following events, each held at the Cathedral of St. Ignatius Loyola, 9999 N Military Trail in Palm Beach Gardens: 
• Vocations Holy Hour, April 25, 2021, 3:30-4:30 p.m.
• Good Shepherd Sunday Mass, April 25, 2021, 5-6 p.m. 
• Vocations Harvest Dinner, April 25, 2021, 6:30 p.m.-7:30 p.m.
Learn more about the priesthood and hear the stories of priests in the diocese at the Vocations Harvest Dinner. This evening will feature prayer, a shared meal, conversation and a question and answer session. It is open to young men ages 15 to 35. R.S.V.P. to vocations@diocesepb.org or call 561-775-9556 by April 16. All events are following CDC protocol and COVID-19 precautions.