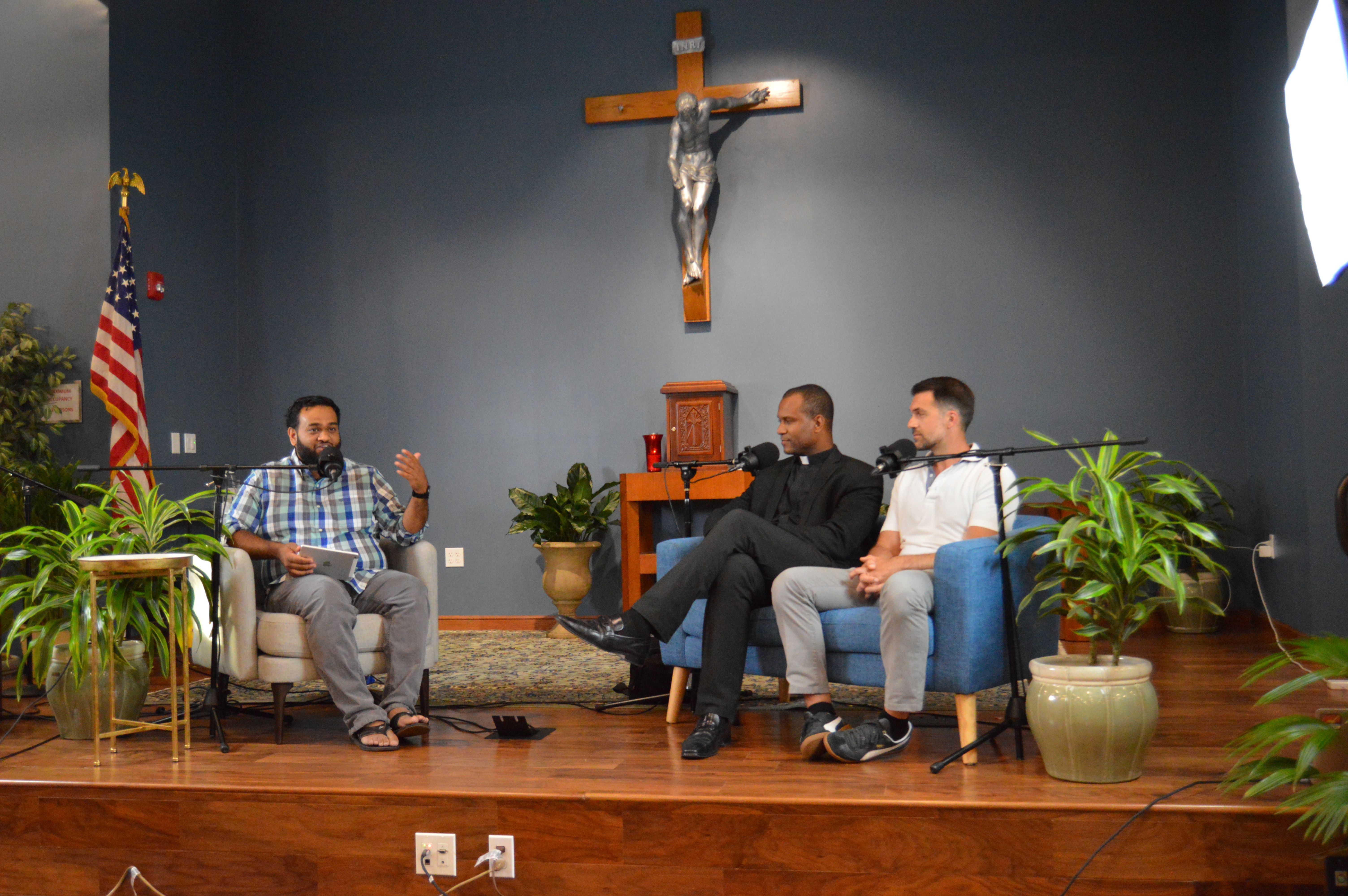 PALM BEACH GARDENS -  For its recording of the second episode in the podcast series "The Power of Personhood," Lumen Vitae of Jesus Youth hosted a live audience event in the Family Life Center at the Cathedral of St. Ignatius Loyola in Palm Beach Gardens, June 11, 2021. 
At the start of the podcast's live recording in front of a young adult audience at the cathedral, Brian Mundackal, CEO of Lumen Vitae and podcast host, shared that the series was born out of a desire to look closely at the intersection of Christian Personalism, as popularized by St. John Paul II, which calls for Christians to see all people as profoundly unique and unrepeatable, especially those who are on the margins of society. 
"Saint John Paul II saw the denigration of the human person as the greatest issue of his time—our time. This is still the case today," said Mundackal. 
Lumen Vitae is a missionary organization that accompanies young people, especially those who find themselves hindered by poverty in marginalized situations around the world, on a path to abundant life. Through education, practical support, and mentorship it empowers young people to realize their dreams and shape the future of their communities. Lumen Vitae's duty to inspire youth and young adults to act in their communities as the light of Christ is renewed in the launch of the podcast series, "The Power of Personhood." The series is meant to open a discussion in young adult communities across the country about the role of Christian Personalism, in relation to the call of Christ to his disciples to love and serve the poor. 
Mundackal was joined by Father Louis Merosne, a frequent speaker at the Steubenville conferences and a priest in Haiti of the Diocese of Anse-à-Veau and Miragoâne; and Dr. Greg Bottaro, a clinical psychologist and founder of the CatholicPsych Institute.
Father Merosne affirmed Mundackal's opening remarks stating, "We don't understand the humanity of the person. Abortion, war, racism—every kind of 'ism'—exist because as a society we don't value the person. When we recognize God in the person, we can admire and love that person forever. The human is more than his emotions, mistakes, experiences; he is rooted in God and that's what makes us worthy."
To read the full Florida Catholic Media article, click here.