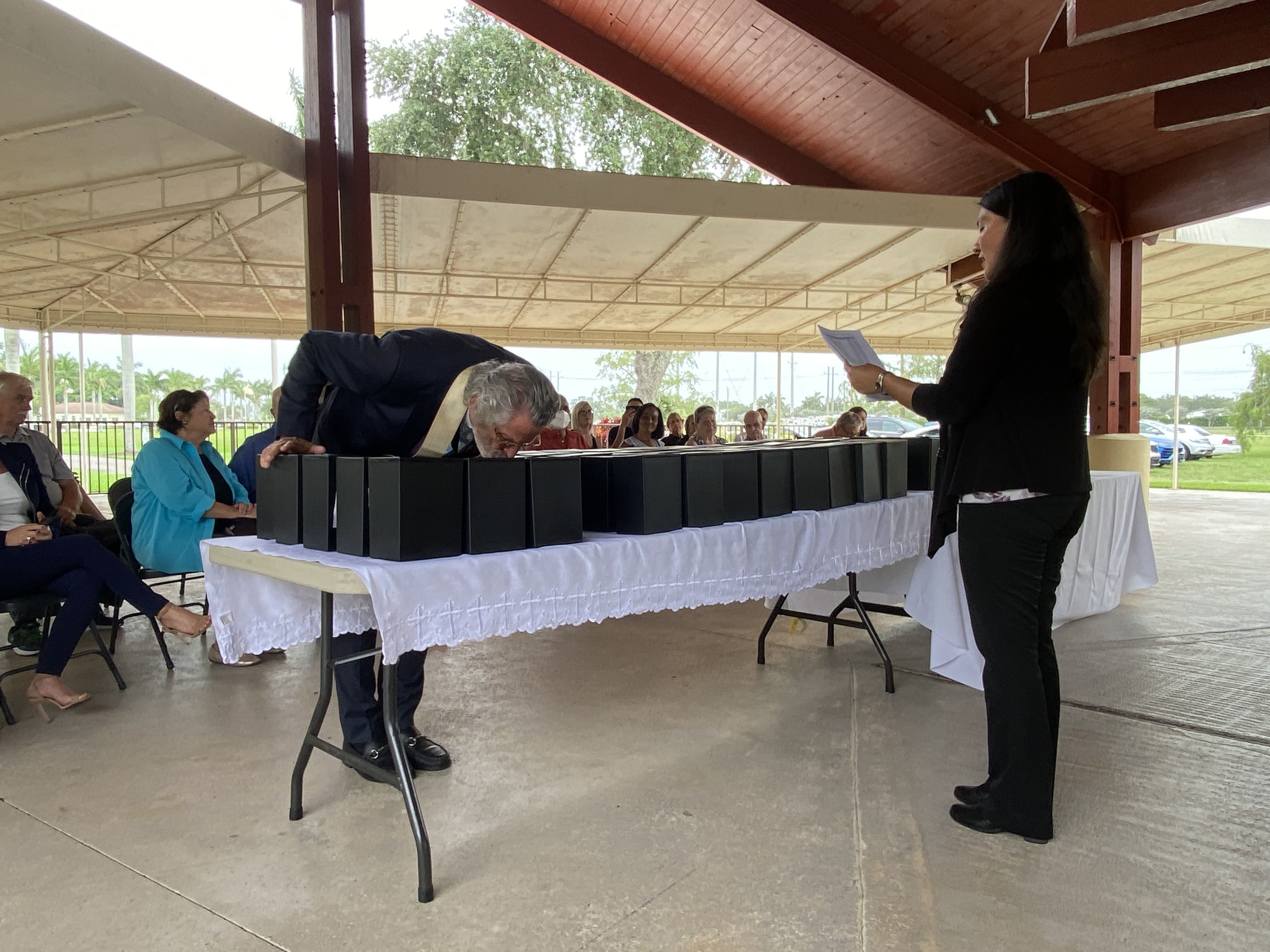 ROYAL PALM BEACH  - At the No One Buried Alone service at Our Lady Queen of Peace Cemetery, June 19, Father Gabriel Ghanoum stood over row after row of small black boxes that held the cremated remains of individuals he considers his "adopted family." He gave a powerful funeral service by incorporating Christian and Jewish passages and rites, bringing inclusivity to all the members that were being adopted, as their personal religious beliefs are sometimes unknown. Father Ghanoum tenderly kissed each urn as he stated, "I love you," while each name was read out loud. He also asked the community to each take a few names of the deceased and pray for them and their families and friends. As the ceremony concluded, the interment finished off with the song of Frank Sinatra's "My Way."
What made this service a memorable one in the ministry's history was a special presentation from Katarina Bleichner, a 16-year-old student from Miami who collaborated with Father Ghanoum on the No One Buried Alone ministry.
In her address to those present at the service, Katarina said, "All of us who participate in the program in various ways and on the days of funeral services become the surrogate family to these members of the community, who have passed away without family or friends that can be located. We become these individuals' 'human family,' united by our shared humanness, as we honor the dignity and life of each and every person adopted into the program."
Katarina also welcomed Dr. Daniel Lichtstein, a Dean from the University of Miami Medical School regional campus, who shared his experiences of impacting and influencing medical students and residents in their training programs. The teen stated that Dr. Lichtstein fosters an environment that encourages students to "remember our connection in humanness in medicine, helping to shape the path and way these emerging doctors will treat human beings while providing care and healing."
To read the full Florida Catholic Media story, click here.