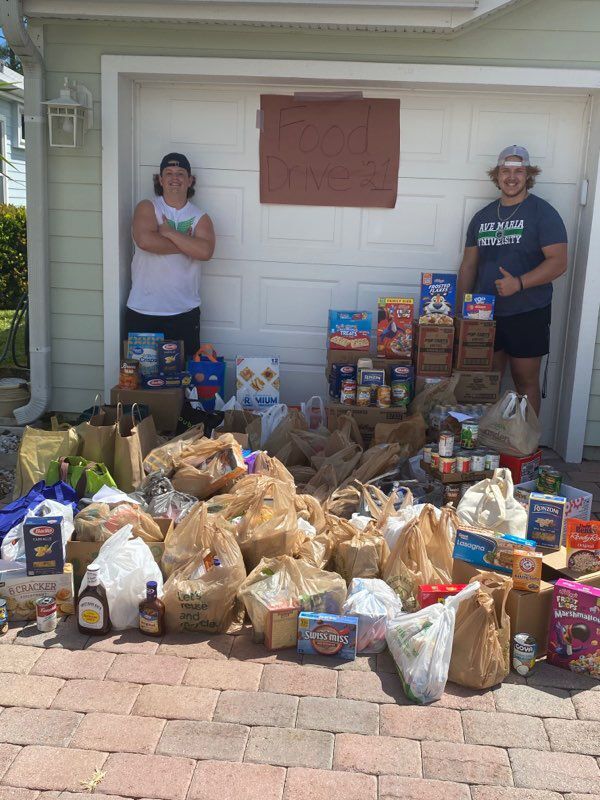 Fort Pierce  |  Among the many things graduates take away from John Carroll High School in Fort Pierce is the support of faith and family into collegiate life.
John Carroll High School graduates Paiten Springsteen, Bryce Shevak and Hayden Sullivan affirmed this sentiment through their choice in attending Ave Maria University in southwest Florida. According to Hayden, this up-and-coming Catholic university just west of Naples, is "small in class sizes and feels like family rather than a school."
"I knew Ave Maria was the right place for me the moment I stepped foot on campus. It was easy to tell because I grew up with this environment my whole life as a Catholic school kid," said Sullivan, who graduated John Carroll in 2020 and also attended St. Helen School in Vero Beach.
Fellow 2020 grad Shevak and recent 2021 graduate Springsteen likewise recognized this characteristic having come from a long history of Catholic education. Both attended St. Anastasia School in Fort Pierce prior to their time at John Carroll High School.
"These young men are Catholic school 'lifers' and are carrying on the faith into higher education," said Springsteen's mother, Becky, who is also a teacher the fifth-grade teacher at St. Anastasia School. She is also a graduate of both St. Anastasia School and John Carroll High School.
Another unifier among the three young men is their love of sports, particularly baseball and football. Shevak is currently on the university's football team. Springsteen will soon join Sullivan on the university's baseball team. The younger graduate said he has played baseball since he could walk and finds faith and baseball go hand in hand.
"Baseball is a failure sport, which is not a bad thing," Springsteen said. "You learn as you go, and you learn from your mistakes. I think this is the same as going to God when you fail him or in life. I go to him in prayer both on and off the field."
Sullivan agreed he doesn't leave his faith behind when on the field. "This year, I wasn't playing my best and I felt that something in my life was off," he said. "I talked to the university coach about it and he encouraged me to take time to pray and go to God about the direction my life was going in. I went to chapel on Ave's campus and prayed for some time; just got right with God. I realized that I was moving too fast through many things in my life at the time and I needed to bring those things to the Lord."  
Both baseball players shared that they value the faith-based activities on the Ave Maria University campus, which they also felt John Carroll High School did an excellent job of offering as formative spiritual opportunities.
"As a member of the Alpha Peer Ministry Team in high school, I ran aspects of student retreats that helped me develop into a leader. I feel that also helped me be a leader on the field by being an example in my faith," said Springsteen, who noted that they prayed before every game and offered up prayers of thanksgiving afterwards.  "Plus, the activities on the college campus are Christ-centered and encouraging of living your faith in daily life."
As a mother of a rising college freshman, Becky is comforted knowing that her son will be supported and guided by members of the John Carroll School family as well as a strong Catholic community.
Paiten Springsteen, a 2021 graduate from John Carroll High School, signed on to play baseball for Ave Maria University, joining Hayden Sullivan, who graduated from the same high school in 2020. 
"It's a blessing that Paiten has the opportunity to strengthen his Catholic identity into adulthood," she said. "Faith, not just education, is the forefront of the university. And knowing that Hayden is there with one year under his belt already is a friendship in faith that both boys can lean on."
As for Shevak, he's thankful that the sense of community he felt in high school has followed him into collegiate life.
"What I love about going to a Catholic college, is that you're not alone on campus as one of the few practicing Catholics. Instead, you go to the cafeteria and there are students having Bible studies, you go to the library and there are students researching theology projects, and there are chapels scattered across campus ready for you when you need it. It's a rich soil of faith that feels like an extension of my John Carroll community," he said.
In addition to classes focused on in-depth study of Church doctrine, the Church fathers, Sacred Scripture, and theology, said there is the sense that everything you do is for something greater.
"Before every football game, we pray for the intercession of Our Lady of Victory for guided success so that we can be an example of brotherhood, compassion, and support on the field," he said. "We are always playing for something bigger than ourselves and the score, we play for the glory of God."
Shevak's mother, Cyndee, is a math teacher at John Carroll High School. She attested that seeing her son's spiritual growth since the early days of his Catholic education has been a revelation to the powerful way the Lord works.
"Bryce is becoming more than an everyday leader; he's becoming the Leader Christ wants him to be — needs him to be — to lead others to him," she said. "To have seen these young men come together for sport, education, and faith at John Carroll and continue that at Ave is incredibly moving."
For more information about John Carroll High School, visit johncarrollhigh.com or call 772-462-5200. Follow the school on Facebook and Twitter @JohnCarrollHS and on Instagram @johncarrollhighschool. To learn more about Ave Maria University, visit avemaria.edu or call 239-280-2500.