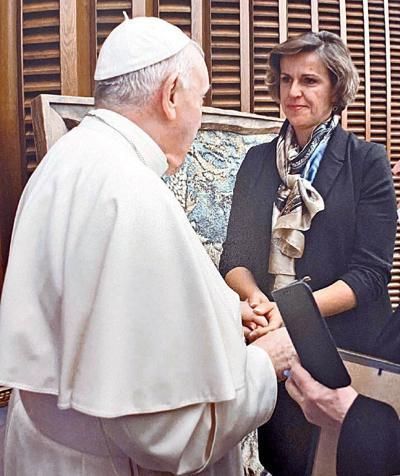 PORT ST. LUCIE  |  Artist Maria Nowak of Holy Family Parish in Port St. Lucie created a unique painting of Pope Francis, made with seeds and grains. She prayed that one day a door would open so she could give the painting to the pope.
That day came March 16, 2022, in a special audience with the Holy Father.
Nowak emigrated from Poland to America as a single woman more than 24 years ago. She met her American husband, Jack, and they have three children.
"Dreams do come true. It was God who led me to where I am today," she said. "About 10 months ago, we moved to Port St. Lucie from New Jersey. We chose Holy Family Church because it was closest to us, and immediately we felt its spirituality. We knew this is the place we should be."
To read the full article in Florida Catholic, click here.
Picture: Vatican Media