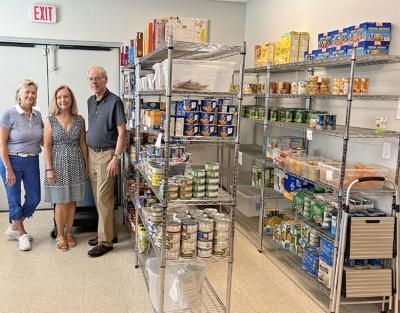 PALM BEACH GARDENS | Summertime presents challenges for food pantries operated by local Catholic communities. With the flock of snowbirds now up north enjoying cooler, less humid weather, food donations decrease in the summer, while families in south Florida are in greater need because their children are not being fed at school.
Other complications for parish food pantries are donors going on vacation and possibly fewer volunteers to serve those experiencing food insecurity. Cathy Graham, the volunteer food pantry manager at the Cathedral of St. Ignatius Loyola in Palm Beach Gardens, said the summer shortfalls are real, but the number of volunteers working at her facility is stable.
Father Gavin Badway, rector of the cathedral, said he is impressed with the fulfilling work done by the caring helpers. "It's happened several times that I have been amazed to find out that a parishioner, whom I know well, has been volunteering at the Parish Outreach program and didn't say anything to toot their own horn. They are truly ministering from their hearts and not for the recognition."
The cathedral's food pantry, which has operated for more than 30 years, is open Monday through Thursday from 1 to 3:45 p.m. Graham, who has been a cathedral parishioner about 27 years and has served at the food pantry for a little more than two years, is there Mondays and Wednesdays and works part time as a paralegal in the area on Tuesdays and Thursdays.
"Clients come in on a walk-in basis," she said. "We have at least two volunteers per shift, and they'll stay for the whole shift. On Mondays, we usually have three because that's our busy day for stocking the shelves. We get a lot of our donations from the weekend Masses."
Cathedral parishioners and weekend visitors are encouraged to donate food items and drop them in a bin near the restrooms. Donations also can be brought to the food pantry during the hours of operation or from 8 a.m. to 4 p.m. Monday through Friday at the Family Life Center, Graham said.
When donations come in, she said, the food pantry workers check each item to make sure it isn't past its expiration date. Since the cathedral pantry is not part of a local cooperative, "What's donated to our pantry stays here in our pantry," Graham added.
The pantry strives to provide nutritious, nonperishable foods, such as boxed and canned vegetables, fruits, meats (beef, chicken and fish), cereals, beans and rice, pastas and sauces. Staples like peanut butter and jelly and spaghetti and sauce can be stretched to provide several family meals, she said. Optional items such as toiletries, baby toys, snacks, breads and fresh fruits are also sometimes available.
The pantry volunteers help clients choose items on the shelves, and each person walks out with two plastic shopping bags worth of food.
"They make their own selection. It's called customer's choice," Graham said. "A lot of pantries will bag things up for people ahead of time and they'll say, 'Here's your bag.' They'll put in whatever they think a family would want. Well, that doesn't fit everyone."
Some families don't eat meat or don't like tuna or peanut butter. They may have food allergies or medical conditions that limit intake of certain ingredients, she said.
"Why give somebody something that's not to their liking? Or maybe they're not even going to use it and they'll throw out? We find that that's the best way to do it," Graham said.
Those who come to the food pantry for assistance present identification with their name and address, and they're asked how many people are in their household, which will determine the amount of food they will receive, she said.
The clients, who must live within the cathedral parish's boundaries, are allowed to come in once a week. Anyone from outside the boundaries is given information on other food assistance possibly available to them, but if it's their first time at the pantry, they will still receive food. Anyone who is homeless is always helped, said Graham, who maintains records on those receiving aid. In 2022, 2,266 local households received food from the pantry, representing 10,372 individuals, she said.
Graham credits the generous parishioners, who are committed to helping those in need, for keeping the pantry stocked. She checks the weekly buy-one-get-one grocery store deals and asks donors to consider buying those items.
"If you're getting BOGO, get one for the pantry and one for your home," Graham said. "It's not costing you a dime. Just bring one to church and put it in the bin. If everybody brought one or two items like that a week, it'd be a big difference for us."
Father Badway added: "Besides parishioners donating items, some parishioners, especially those who do not drive, are generous in donating money. We, ourselves, then go out to purchase the food for the pantry."
Leading up to Thanksgiving, Christmas and Easter, Graham makes a special request for grocery gift cards so clients can buy their ham or turkey. "Last year, I organized a backpack and back-to-school supply drive," she said. "I advertised in the bulletin for gently used or new backpacks because all kids bring backpacks to school these days. I'm sure you've seen some of the supply lists that the schools send home. It's a small fortune."
The pantry volunteers see the real needs of those seeking assistance. Retiree Tom Lawlor, who has served in the pantry for a few years, said the reason is simple: "Because Christ asked us to," adding, "What am I going to do, chase that white ball around forever?"
Another volunteer, Carol De Fabrique, who helped out for many years at a food pantry in Asheville, North Carolina, said, "It's rewarding to see how grateful they are and the smile on their faces. To have something like this, I think is very important, very worthwhile."
For information on the cathedral food pantry, visit www.cathedralpb.com/st-ignatius-outreach-program or call the parish office at 561-622-2565.