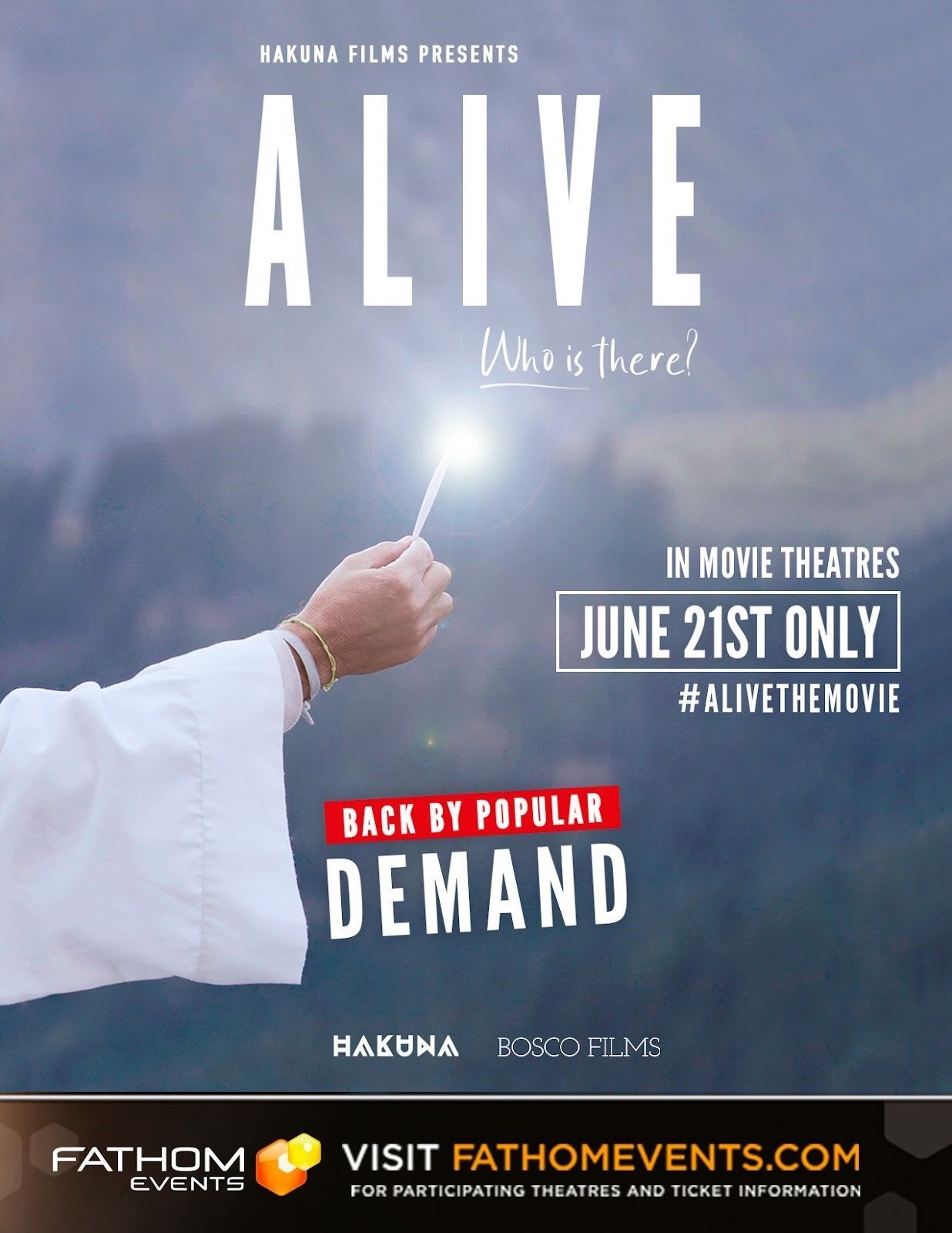 MADRID, SPAIN - May 24, 2022 – The  Bosco Films and Hakuna Films feature documentary film ALIVE, directed by Jorge Pareja and produced by Paula Bautista has garnered an encore theatrical presentation on June 21st in movie theaters nationwide via  Fathom Events  The Eucharistic documentary was a fan favorite and captured a #1 per screen average at its initial open on April 25th. The upcoming and highly anticipated June encore showing of ALIVE will coincide with the Catholic feast of Corpus Christi and at the same time that the United States Conference of Catholic Bishops kick off  a three-year Eucharistic revival initiative in the U.S.
"Catholics everywhere responded to the message of this film and now we have another opportunity to bring ALIVE to the United States," said Father Jose Pedro Manglano, founder of the Hakuna movement. "ALIVE always creates a movement and the movement we hope to create is one around renewed Eucharistic devotion. It's no coincidence with God that the encore showing of ALIVE will take place exactly as the United States Catholic bishops begin their initiative for Eucharistic revival."
ALIVE is a Spanish produced documentary film that brings forward the compelling testimony of five men and women with four unique stories of how their lives were transformed by the True Presence of Jesus Christ in the Eucharist: God alive. These true stories are told by real people and propose that audiences consider their testimony and the power of God in the hidden Christ contained in a white host, something many cannot see or discern and have never known. Watch the trailer here: 
"This is exactly what we prayed for," said Lucía González-Barandiarán, founder of Bosco Films. "We are calling on Catholics everywhere to turn out at the theaters! Bring your family, those who are near and those who are far off and let them experience the truth of the Eucharist and the powerful testimonies of the unlikely men and women who share their stories. No one will leave the theater the same. We have given you a movie about the Eucharist, now it is up to you to lead people to the theaters!"
As part of the documentary film experience, filmmakers have included bonus content, "A Conversation About the Power of the Eucharist." After the documentary presentation of ALIVE, filmmakers will take audience-goers a little deeper for a conversation about the power of the Eucharist, the true Presence of Jesus Christ including testimony about the transforming power of God made present in the Eucharist at Catholic Masses and on altars around the world. The bonus content features Bishop Andrew Cozzens, chairman for evangelization and catechesis at the U.S.C.C.B; Sr. Nancy Usselmann, FSP, Director of the Pauline Center for Media Studies; Rev. Julian Harris, pastor at St. Thomas More in Boynton Beach, FL; and Rev. Alex Vargas, parochial vicar at St. Thomas More in Boynton Beach.
"We anticipated the same powerful movement around ALIVE in the U.S. as we saw in other countries -  where the Church could use this film to inspire people to truly know the power of the Eucharist and that He in fact is alive," said Lucía González-Barandiarán. "We are so grateful that American theater goers were deeply impacted enough that ALIVE will now receive a second showing! We encourage Catholic priests, religious and families to embrace this film. See it together and lead people back to the power of God in the Holy Eucharist. Let's shock the box office again and lead everyone to the hope that is Jesus Christ in the Blessed Sacrament!" 
ALIVE will serve as a tool for Catholic dioceses, parishes, ministries and families to share the message of Jesus Christ present in the Eucharist at a time when the world is in great need of the light, hope and power of Jesus Christ. In a very special way, the encore presentation of ALIVE  will become a cinematic platform for parish and ministry groups wanting to participate in the national movement toward Eucharistic revival in the U.S.
Tickets for ALIVE can be purchased at Fathom Events or participating theater box offices. Fans throughout the U.S. will be able to enjoy the event in select movie theaters; for a complete list of theater locations visit the Fathom Events website (theaters and participants are subject to change).
For interviews, please contact: Alexis Walkenstein, President of AWE PR at walkensteina@gmail.com or via mobile at (561) 445-5409
ABOUT ALIVE
What would happen if you met someone who has the power to change your entire life and destiny? ALIVE tells four stories of five people who came face to face with someone that many cannot see… Jaime, Carlos, Andrea, Antonio and Sonsoles assure audiences that He is ALIVE and has brought them back to life. If you listen you can hear Him and, if you look, you can see Him, because, although it is hard to believe: There is Life. 
ABOUT BOSCO FILMS
BOSCO FILMS is a company born in 2017 with the idea of bringing fresh air to the film industry. It seeks films of high artistic quality, with stories that defend human values. Its interest is cinema that invites you to grow and bring out the best in everyone, cinema that leaves a mark on the viewer like the most robust of trees: fresh, alive and at 
the same time remains firm in the face of the passage of time. 
ABOUT FATHOM EVENTS
Fathom Events is a recognized leader in the entertainment industry as one of the top distributors of content to movie theaters in North America. Owned by AMC Entertainment Inc. (NYSE: AMC); Cinemark Holdings, Inc. (NYSE: CNK); and Regal, a subsidiary of the Cineworld Group (LSE: CINE.L), Fathom operates the largest cinema distribution network, delivering a wide variety of programming and experiences to cinema audiences in all the top U.S. markets and to more than 45 countries. For more information, visit FathomEvents.com.
Click here to read the April 21 story about this in Florida Catholic.