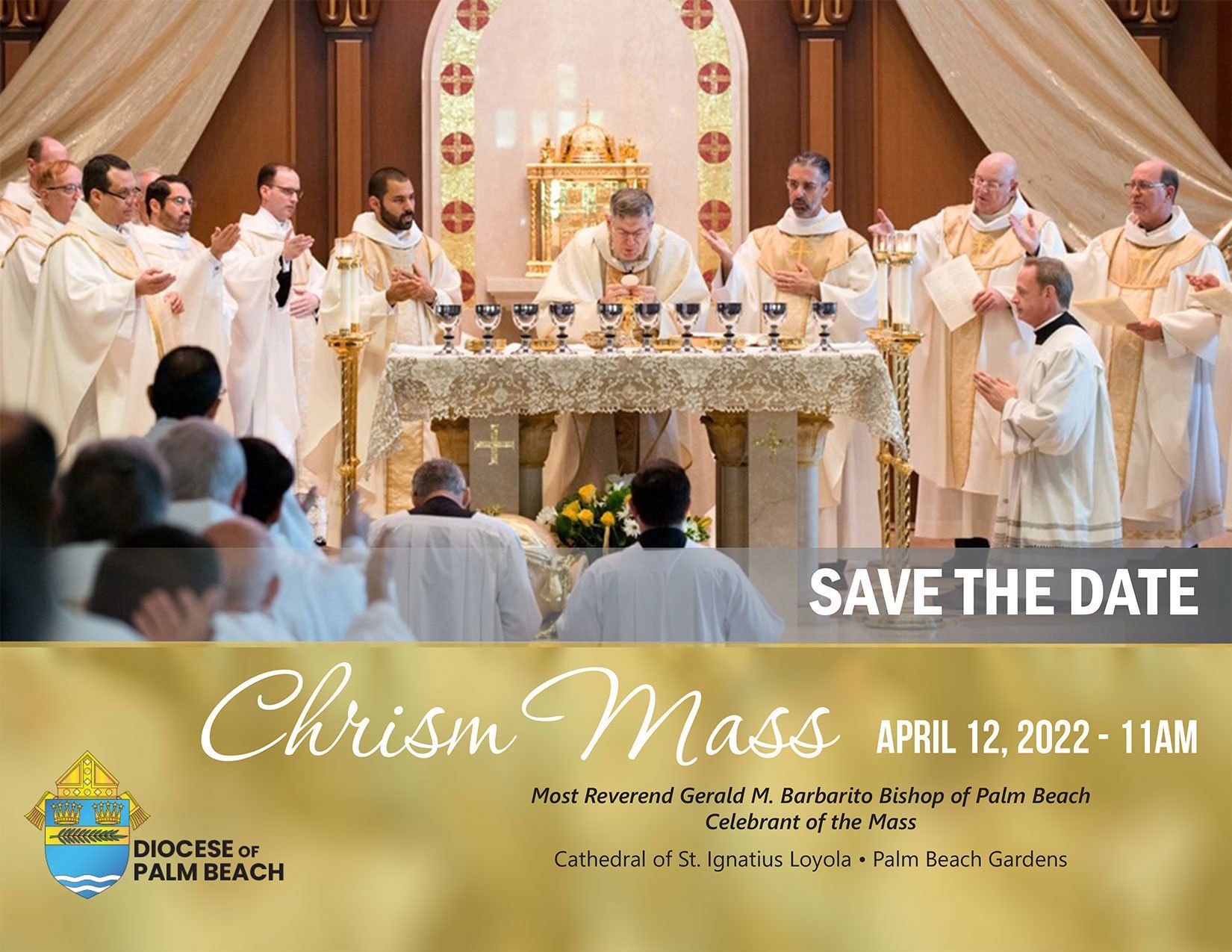 As part of Holy Week, The Most Reverend Gerald M. Barbarito, Bishop of Palm Beach, will celebrate the Chrism Mass, on April 12 at 11:00 AM.  It is open to the public.  It will not be live-streamed.
During the Chrism Mass, Bishop Barbarito will bless the oils and consecrate the chrism that will be used for sacramental purposes during the next year in the Diocese's 53 churches and missions. In addition to the blessing, the priests will renew their promises and those with significant anniversaries of Ordination to the Priesthood will be recognized.
Bishop Barbarito and the Diocese congratulate the priests listed below on these milestone anniversaries of their ordination and thanks them for their dedication to their Catholic communities and to building God's Church. 
 
Diocese of Palm Beach
Ordination Anniversary - From Year: 2022
 
1 Year
Reverend Hugo Cardoso, cs          
Reverend Alain Waterman 
5 Years
Reverend Martin Dunne                
Reverend Wisman Simeon             
10 Years   
Reverend Jason Brilhante                        
Reverend Leonard Dim                             
Reverend Paul Kesne Louissaint         
15 Years    
Reverend Nobert Jean-Pierre                 
20 Years    
Reverend Gregg Caggianelli                    
Reverend James Downs, MSA                
Reverend John O'Farrell                          
Reverend Alex Vargas                               
30 Years
Reverend Gary George, C.SS.R.                                                                       
Very Reverend Alfredo Hernández       
Reverend William Shaughnessy, Opus Dei                                                      
Reverend Keith Shuley                            
35 Years     
Reverend Raymond Adam Forno                                   
Reverend Louis Guerin                             
Reverend Donald Munro 
40 Years    
Reverend Roland Desormeaux, cs         
Reverend Stephen Frenier, OFM Conv.  
Reverend Paul Huesing, CSP                   
Reverend Joseph Kuczborski                 
45 Years   
Reverend Moacir Balen, cs         
Reverend John Forni                     
Reverend Michael Martin, CSP               
Very Rev. Charles Notabartolo      
Reverend Humbert Oliveira          
Rev. Carl Zdancewicz, OFM Conv.       
50 Years   
Rev. Richard Florek, OFM Conv.          
Archabbot Emeritus Douglas Nowicki, OSB  
Reverend Edward Wolanski, CP    
55 Years       
Reverend William Carey                
Reverend Matthew Didone, cs     
Rev. Michael Driscoll, O. Carm.          
Monsignor James Moore               
Monsignor John Patrick                 
Reverend Danis Ridore                   
60 Years             
Monsignor Philip Morris                
Reverend Sean Mulcahy                
Reverend William O'Shea