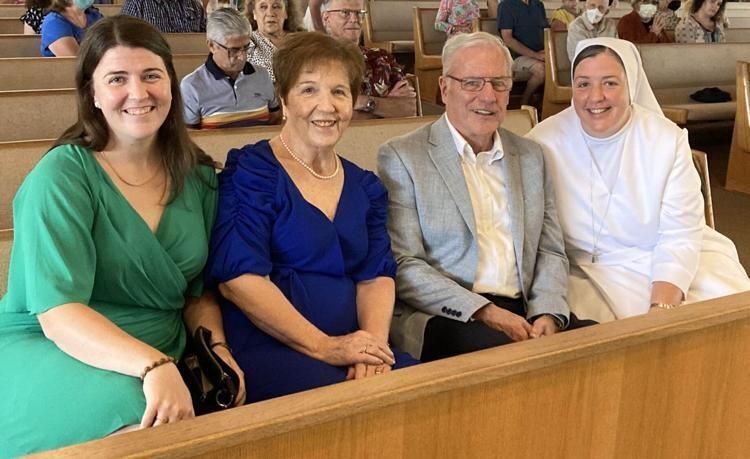 WEST PALM BEACH  |  During a talk to the Magnificat group Sept. 10, Salesian Sister Katie Flanagan urged the women in attendance to stay rooted in their faith, as she was while journeying toward her life as a consecrated religious.
Magnificat, a ministry for Catholic women that meets quarterly in West Palm Beach, invited Sister Flanagan to talk about her faith journey, which was nurtured as a girl at St. Rita Parish in Wellington. She served as a catechist and high school youth minister at the parish before entering the Salesian community 10 years ago.
Sister Flanagan professed first vows in August 2016 and final vows Aug. 5, 2022. She has served as campus minister and theology teacher at St. John Neumann High School in Naples, and is currently a theology teacher and member of the campus ministry team at Immaculata-La Salle High School in Miami.
During her presentation, Sister Flanagan spoke about how she would have laughed if anyone had told her that years later she would be telling a group about her journey toward religious life.
"There is no chance. No way. No how," she said. "But I did grow up in a home and in a community that was steeped in faith.
"I think there were times that I joked growing up that I spent more time at St. Rita, our home parish, than I did in my own house," Sister Flanagan said. "It was important to us and, for the most part in my life, I enjoyed going to Mass."
Her Catholic faith continued to develop as a student at the University of Florida, where she was involved with campus ministry. Without her parents around, the faith became her own, and she sought out answers for herself, she said.
As an education major with plans to teach elementary school children, she was idealistic about the role of educators and how they need to teach the whole child. She learned from friends that the Salesian sisters, who operate Catholic schools across the state and country, also feel that way about education.
During spiritual direction in her senior year at UF, the future Salesian nun was reflecting on Scripture "and just this tiny thought popped into my head that said, 'Maybe you're supposed to be a nun.' And I remember I had my eyes closed, and I had the Bible in my hand, and I just opened my eyes and was like, 'Who said that? Who heard that?'"
Though it apparently wasn't her time to take seriously the call to religious life, that began a discernment process that took several years. Even after she became employed as a teacher in Palm Beach County public schools, "every time I would go to pray, I would just feel this wrestling inside. If I sat with it, I would hear again God kind of saying, 'Come on, come be a sister.' And I would say, 'No, thank you,'" Sister Flanagan said.
She talked with a friend who was a seminarian and is now Father Daniel Daza-Jaller, vocations director for the Diocese of Palm Beach. He encouraged her to visit some sisters and discover if what she was feeling was a genuine calling. She remembered the Salesian sisters from the conversation with her college friends, so she contacted them and booked a flight to their motherhouse in New Jersey for a weekend of discovery.
"There was something in me that knew this is a defining moment," Sister Flanagan said. "Like from this point, there's going to be no turning back. But I also, at the same time, was praying more fervently than I had prayed anything up until that point: 'God, please, please, if you love me, please, let me get there and hate it.' I wanted to hate it because I knew enough that God is only going to call us to what's going to bring us our deepest happiness."
But on her first day with the sisters, while praying in their chapel, she found the answer.
"When I sat there, it was the first time in years that I sat in front of the Blessed Sacrament to pray and I wasn't fighting inside. I just felt peace," she said. "And I think I said it out loud even. At that moment, it was like I realized that I was feeling peace. I knew that you would feel peace where God was calling you to go."
But she was scared, Sister Flanagan said, and she put off the sisters for two years before deciding to enter the Salesian community.    
"It's the best choice I ever made by far, to surrender myself to God and to his will," she said.
"Listen, never in a million years if I planned out my life, not even on the very last page would I have written, 'And maybe I'll become a nun.' It was not anywhere in my realm of possibility. But it kept coming up and it wouldn't go away. And that, for me, was a validation," Sister Flanagan added.
She said God's voice didn't come to her in a shout but in a whisper. A few things helped her break through the noise to hear his call, Sister Flanagan said.
"The first thing for me was Scripture," she said. "That very first moment that I can remember tangibly hearing God's call, I was reflecting on a piece of Scripture. The way that the word of God works in our lives, it has to be central, and it has to be something that we are eating, or chewing, we're consuming every day."
The second is that, by praying the rosary and developing a stronger connection to Mary, she learned to open herself to the will of God.
"Something else that helped me to listen to God's voice is the sacraments," Sister Flanagan said. "That was one of the first things I started to do when I was seriously discerning. I started to go to daily Mass.
"But wow, the graces from that moment, once I was receiving the Eucharist daily as often as I could. Then things got serious fast because of the grace of God working in my life and being close to him," she said.
Lastly, her community of family and friends made a huge difference, she said. "I think growing up in the family I did, with parents who loved me the way that they do, made me receptive to God's love from the beginning. But also the community of faith that I grew up in at St. Rita, and with the friends that I chose to surround myself with. They were all people who were supportive and nurturing, who gave me a pretty strong push a couple of times when I needed it when I was chickening out."
She said those essential tools — Scripture, Mary, sacraments and community — can help people discern anything in their lives.
"It's about bringing him into the mess. Opening ourselves up because he will use that mess as what you can give to the world and to your community, to your family, to the church," Sister Flanagan said.
"I just encourage you to stay rooted in Scripture, in the sacraments, in your community, and find those ways to just let God extravagantly give you his love because, when you're sitting in that love, you'll go wherever he wants."
For more information about Magnificat and its Christ Our Light chapter, visit https://magnificat-ministry.net/chapters/chapter-states-d-i/fl-palm-beach/ or email magnificatpalmbeach@gmail.com. The next Magnificat event is set for Saturday, Nov. 12. To learn more about religious vocations in the Diocese of Palm Beach, visit https://palmbeachvocations.com/.
To read this and other stories in Florida Catholic, click here