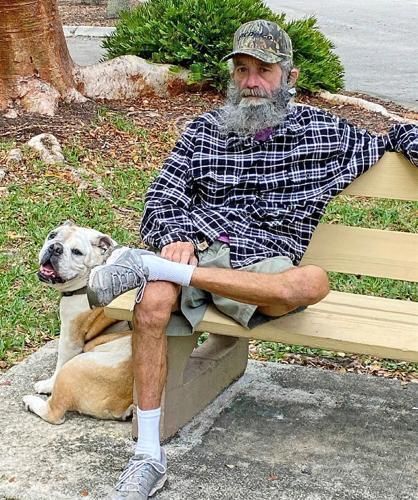 WEST PALM BEACH  |  Although he was homeless, Carlos Garcia felt at home in Spillway Park at the north end of Lake Worth Beach. Many people got to know him at the public park and at St. Juliana Parish in West Palm Beach.
Deacon Miguel Muñoz, director of social ministries at the parish, said Garcia, whom he had known nearly 20 years, was a good man. Every day the parish would bring lunch to Garcia, who lived in a tent about a mile west of the park. His tent and cot were a gift from Deacon Muñoz.    
"Of all the homeless that I have known in the neighborhood, he was No. 1," the deacon said. "Didn't drink, didn't smoke, nothing. No drugs. I have the report from the autopsy, and it was all clear."
Garcia, 69, died in August when he was struck by a car while riding his bicycle. After no relatives were found to claim his body, his remains were cremated and plans were made for a funeral Mass at St. Juliana, which was held Oct. 15. Celebrant at the liturgy was Father Max Sánchez, parochial vicar, and Deacon Muñoz was the homilist.
"My friends, this morning we have gathered here, not so much to talk about Carlos, but to pray for him. We believe that our prayer here can help Carlos where he is now. We know that prayer is powerful, and we believe that we can help the departed by praying for them," Deacon Muñoz said.
Flowers wither and die, but "prayer has lasting value." The deacon ended his homily with Garcia's favorite phrase: "God will take care of me."
Several friends from the park came to St. Juliana for the celebration of Garcia's life. One of them, Joe Capozzi, a resident of Lake Worth Beach's College Park neighborhood who walks his dogs at Spillway, saw Garcia as a park fixture occupying the same bench under a tall oak tree. Capozzi noticed that Garcia kept to himself and steered clear of most other people in the park.
"There are a lot of homeless people at the park … and there was something different about this guy," he said. "I thought he lived in the area and just liked to go to the park." 
When Capozzi learned Garcia was homeless, he tried to offer him money, but the man wouldn't take it. Like the other friends, Capozzi was shocked when he heard that Garcia had been killed.
Capozzi, a former reporter and columnist for the Palm Beach Post, has memorialized Garcia in an article on a blog he started since leaving the newspaper in December 2020. He said many people who knew Garcia even better weren't able to attend the funeral Mass.
But one of those buddies, Devin Cobb, who lives near the park, was there for the funeral service and later committal ceremony at Our Lady Queen of Peace Cemetery in Royal Palm Beach, where Garcia's ashes were placed in a mausoleum crypt.
Cobb said that when he moved to the area near Spillway, "Carlos was there. He was just one of the people who was there all the time. My friend pointed out, 'That guy's always clean-shaven.' After a while we felt like he was just an old guy who hangs out at the park because he's got nothing else to do.
"So, then we started to talk to him and get to know him more. He was always nice, but he didn't want to be bothered a lot. We would go out to lunch every now and then. He always wanted to pay, but I tried to make sure that he didn't as much as possible," said Cobb, who told Capozzi that Garcia "was an angel among men."
To read Capozzi's article, visit https://www.byjoecapozzi.com/post/a-homeless-man-dies-a-lake-worth-beach-community-mourns. For information on St. Juliana Parish, go to https://stjulianacatholicchurch.com/, and for Our Lady Queen of Peace Cemetery, visit https://ourqueen.org.
To read this and other stories in Florida Catholic, click here.