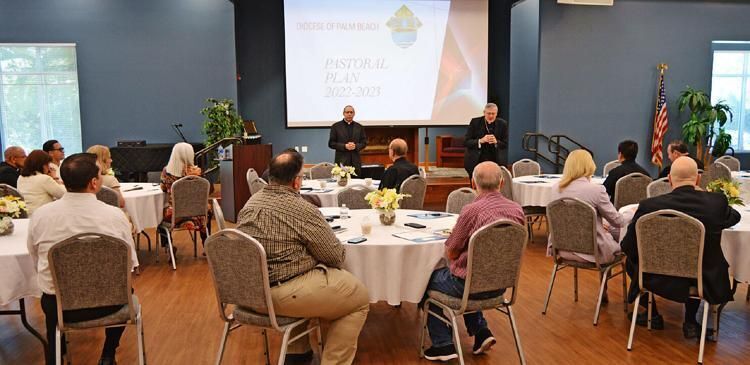 PALM BEACH GARDENS  |  Priests from parishes with active Hispanic communities in the Diocese of Palm Beach met Oct. 27, 2022, with Bishop Gerald M. Barbarito and other diocesan leaders to learn about the latest ministry trends geared toward the growing Spanish-speaking population.
Father Duván Bermúdez, director of the diocesan Office of Hispanic Ministry, welcomed pastors and/or parochial vicars from 15 of the 29 local parishes with Hispanic communities at the meeting in the Cathedral of St. Ignatius Loyola's Family Life Center, and he introduced members of his diocesan pastoral team, which helps represent him in the parishes.
He urged the priests to form Hispanic pastoral teams in their parishes to help develop ministry programs that meet the diverse needs of people in the pews. Building vibrant programs is a process that takes time, Father Bermúdez said, but "without pastoral teams we can do nothing."
A main focus of the meeting was updating the pastors on the 2022-2030 Diocesan Pastoral Plan for Hispanic ministry. Progress on the plan, under the theme "We are all Church, let's all evangelize," will be highlighted at the 35th Diocesan Encuentro on June 4, 2023.
We profess our faith in God the Father, Jesus Christ, the Holy Spirit, the holy Catholic Church, the communion of saints and other truths at Mass, Father Bermúdez said, but sometimes the reality is very different.
"Our mission is to create good communities," he said. One of the keys to building and strengthening bridges is focusing on young adults.
"It's very important to work with them," Father Bermúdez said. "Many young adults leave our parishes. Many young families leave our parishes. What happened? What happened with our pastoral care? They aren't the future. Today, they are the present of our church."
He reported on the Southeast Pastoral Institute's Regional Encuentro that he attended in St. Augustine Oct. 13-16, which was livestreamed on YouTube. Andy Baker, coordinator of youth and young adult ministry for the diocese, who also attended the SEPI meeting, said the event supported the ministry already occurring in the Diocese of Palm Beach.
"It was confirmation for us that everything we do from the diocesan perspective in family life, faith formation, youth ministry, marriage, etc. Everything we do has to be indiscriminate because we're in the period of time and ministry when we have to be relational and we have to meet people where they are," he said.
Summing up the gathering, which included information on the National Eucharistic Revival and how to communicate with the Hispanic Ministry Office, Father Bermúdez acknowledged the challenges ahead in reaching out to the faithful.
"Let me repeat again, not only for the Spanish community but for everybody in our church: They need to find in our parishes a good church because it's necessary to walk with them, accompany them, accompany our families, our young, our grandmothers and grandfathers because they are all part of our church," he said.
For more information on Hispanic ministry in the diocese, including the 2022-2030 Diocesan Pastoral Plan, visit https://www.diocesepb.org/ministriesoffices/ministries/hispanic-ministry/. To learn more about the Southeast Pastoral Institute and its recent Regional Encuentro, go to https://sepi.us/ and https://www.youtube.com/playlist?list=PL5-UTNoLKWd7IbDLxP3Jb W3yCCtatciOi.
To read this story and others in Florida Catholic, click here.