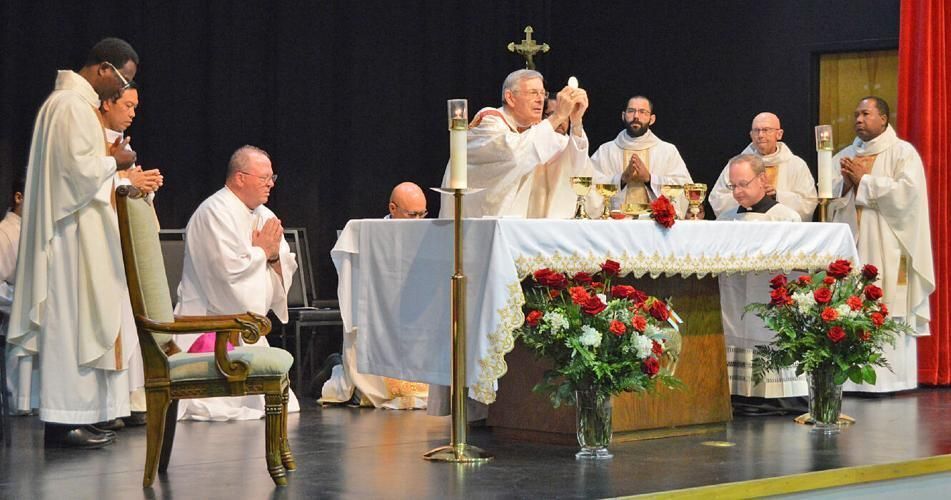 WEST PALM BEACH | St. Ann Catholic School, which is marking its 100th anniversary with many events and activities, celebrated a Mass Jan. 25, 2023, with Bishop Gerald M. Barbarito as the main celebrant.
"We give thanks to God for 100 years of being a Catholic school and doing what a Catholic school does, that is giving the best formation to our young people and doing that in the context of our Catholic faith," he said at the liturgy's start in the school gymnasium.
The school geared up for the centennial celebration with a birthday party in October 2022 at the annual Founder's Day celebration, which included the gathering of items for a time capsule, with each class contributing.
In his homily, Bishop Barbarito mentioned that the church commemorates on Jan. 25 the conversion of St. Paul, who was a persecutor of Christians before encountering Jesus and being blinded by a bright light. Afterward, it became Paul's mission to teach and spread the message of Jesus.
Addressing the students, the bishop said, "We learn about God here at St. Ann's and we learn about Jesus Christ and the teaching of Jesus Christ. Just as St. Paul went around teaching about Jesus, here at St. Ann's we learn about the person of Jesus, how much he loves us and how he's with us and how he gives us meaning and gives us purpose. That's so very important.
"For 100 years, St. Ann School has been teaching, and teaching in the best possible way, to hand on to the young people the greatest gifts they can give them in terms of their formation, in terms of knowing themselves, in terms of learning about the world, but all in the context of our faith in God," Bishop Barbarito said in congratulating the students, teachers, staff, parents, alumni, benefactors and community on reaching the centennial milestone.
St. Ann School was established in 1923 by the Adrian Dominican sisters as the first Catholic school serving Palm Beach County. An International Baccalaureate World School, it has almost 300 students in pre-kindergarten-3 through eighth grade.
At the conclusion of Mass, Father Nestor Rodriguez, pastor of St. Ann Parish, who was recently named pastor of St. Joan of Arc Parish in Boca Raton, thanked many people for their faithful support of the school through the years. A student read a proclamation from Gov. Ron DeSantis honoring the school.
Father Rodriguez acknowledged dignitaries in attendance, including the many priests who concelebrated the liturgy. He also welcomed Father Quesnel Delvard, his newly named replacement as St. Ann's pastor.
"I want to welcome and thank the staff of St. Ann Parish and School, who work very hard so that our church and our school truly reflects and shares the message of Jesus Christ in everything that we do," Father Rodriguez said. "In a special way, I want to congratulate our teachers and staff who give of themselves wholeheartedly, constantly beyond their call."
He expressed gratitude to Susan Demes, principal of St. Ann School, saying that "she loves the school and she loves our families and our children."
Talking to the school parents, Father Rodriguez said, "You have entrusted the most precious gift that God has given to you — your children — to us. And for that we will be eternally grateful. May St. Ann continue to be a beacon of hope. May we continue to excel in academics, but most of all, as the bishop said, the most important thing that moves us, that moves who we are, that inspires us, is our proclamation of the love of Jesus Christ. May we continue to live that love in our homes."
For more information about the school, visit www.stannwpb.org or call 561-832-3676. To learn about schools in the Diocese of Palm Beach, go to www.diocesepbschools.org or follow the Office of Catholic Schools on Facebook, Instagram and Twitter.