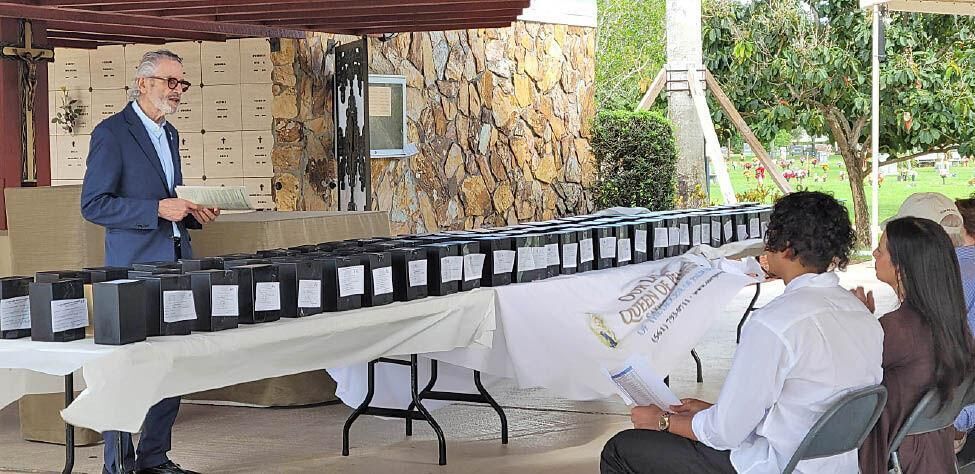 ROYAL PALM BEACH | A No One Buried Alone memorial service is scheduled for noon Saturday, Feb. 25, at Our Lady Queen of Peace Cemetery, 10941 Southern Blvd. in Royal Palm Beach. Father Gabriel Ghanoum, director of spiritual and palliative care at JFK Medical Center in Atlantis, will be the celebrant.
Father Ghanoum began in 2011 to give a dignified burial to deceased abandoned individuals, many of whom died alone, except for hospital personnel. The No One Buried Alone ministry was founded by Father Ghanoum and Adriana Gorrondona of the Palm Beach County Department of Human Services, in cooperation with Our Lady Queen of Peace Cemetery and the Diocese of Palm Beach.
Since its inception, Father Ghanoum has claimed hundreds of cremated remains, including miscarried and stillborn babies, children and adults of all ages, races and religious affiliations, from various funeral homes throughout the diocese, and has seen to their proper burial at the cemetery.
Father Ghanoum will conduct a compassionate burial service at the outdoor chapel for more than 100 individuals who will be interred in a designated crypt. For more information about the cemetery and the No One Buried Alone ministry, visit https://ourqueen.org/no-one-buried-alone/.