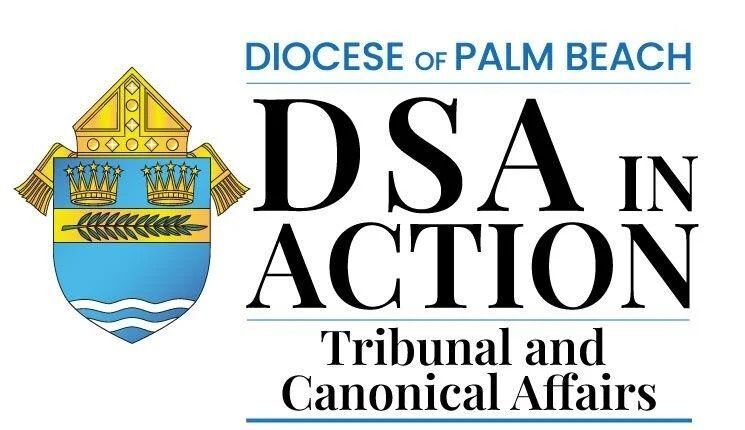 Editor's note: This series of articles looks at the many programs that are financially supported by the Diocesan Services Appeal in the Diocese of Palm Beach. Donations to the DSA stay local, financing 47 Catholic initiatives in our five counties. The funding protects the most vulnerable among us, from the unborn child to the elderly, provides food for those who are hungry, sustains our Catholic schools, supports seminarians preparing for the priesthood and much more. This installment in the series explores the diocesan Office of the Tribunal/Canonical Affairs.
PALM BEACH GARDENS | Catholics may think a diocesan tribunal is only for when marriages don't work out. But it actually does much more than that, thanks to support from the Diocesan Services Appeal.
According to Archimandrite Glen Pothier, who serves as judicial vicar for the diocese and is one of the Tribunal's judges, the job of the Tribunal is to "adjudicate cases, just like you would in a civil court, but from a canonical and theological perspective. When it comes to marriages, that's one aspect of what we do."
Other situations that the Tribunal may tackle include cases for sainthood involving alleged miracles in the Diocese of Palm Beach. One such example is the case several years ago of a priest in the diocese who received a miraculous cure through the intercession of St. Titus Brandsma. The Tribunal gathered evidence and interviewed witnesses to help church officials in Rome decide the case.
The Canonical Affairs part of the office handles things like laicizations (if a priest or deacon wants to leave the clerical state), buying and selling church property, questions about how sacraments were administered and anything else that deals with the system of church governance.
As Tribunal director, Sandi Martinez keeps the office on task, especially since Father Pothier splits his time between working at the Pastoral Center and being pastor of St. Edward Parish in Palm Beach. Martinez is responsible for cases as they come in, mostly dealing with the validity of marriages and annulments.
"I review the cases and also oversee the notaries that we have to distribute the amount of work that we get," he said. "I also process cases that have to deal directly with Rome." His office handles about 110 formal annulments every year in the diocese, and those numbers have been increasing.
Another benefit of DSA funding is that the cost of annulment cases is kept to a minimum at $300. But Martinez and Father Pothier emphasized that even the $300 will be waived if someone has financial issues. But the real cost to process a case is $2,500, they said.
"We've kept it at the rate that we can," Father Pothier said. "The majority is covered by the DSA, then that $300 is minimal. And as I said, that shouldn't be an issue. If you really can't afford something, you really can't afford something. A just hearing is just as important for a poor person as for a rich person."
Many of the responsibilities of the Tribunal/Canonical Affairs staff are administrative in nature, he said, but "annulments deal directly with real people."
The formal annulment process looks at a couple's courtship, wedding day and early part of their marriage to determine if anything occurred to preclude the formation of a covenant between them. For instance, did both parties understand and intend to adhere to the indissolubility of marriage? Was one of them pressured to marry? Were they faithful to their spouse? Did one or both have an addiction that affected their ability to enter a covenant?
"Things like that are examples of, on the day of marriage: How can I enter the covenant of marriage if I have no ability to be able to commit myself to anything?" Father Pothier said.
"We're not saying we're annulling anything because it's a false term to use," he said. "We are declaring that nothing existed. To declare something never existed is to say, I'm not erasing the marriage. It never existed to start off with."
Father Pothier explained that the Tribunal and the church are trying to maintain the integrity of marriage, and Catholics are bound to the church's perspective on marriage. But formal annulment processes, which may take a year to complete, are just one of the marriage-related situations the Tribunal deals with. Other instances could be a couple married by a justice of the peace who now want their marriage recognized and blessed by the Catholic Church, or a local couple planning their wedding in a diocese in another state or country.
"That paperwork comes through us, and we have to make sure that they are actually free to marry before we send it out to the next diocese," Martinez said. "It's a process that takes time for us. Sometimes when we don't get all the documents that they're going to need in order to get married in another diocese, and we have to write to the person who presented those files to us to obtain those documents and make sure that we send it complete."
In order to start a process, whether it's wedding-related or a formal annulment, he advises couples to begin with their parish, where a priest, deacon or lay advocate will assist them. Those people are invaluable in helping the Tribunal complete its fulfilling work, Martinez said.
"Something that I have learned during the 22 years that I've been working here is that our job is not a job. This is a ministry. This is pastoral work. And the hard work that we put in here is a very satisfying process. We are able to help people to heal some of those wounds that they have had for a long time," he said.
"Some people who have been able to get back in communion with the church, once they get the case through, it's like a weight that has been taken off their shoulders," he added.
The generosity of Diocesan Services Appeal donors supports the Tribunal/Canonical Affairs office. The faithful's participation in the appeal is a vital part of the diocese's ability to provide these services. For more information about the diocesan Office of the Tribunal/Canonical Affairs, visit https://www.diocesepb.org/ministriesoffices/offices/tribunalcanonical-affairs/. To donate to the DSA, visit www.DiocesePB/DSA.