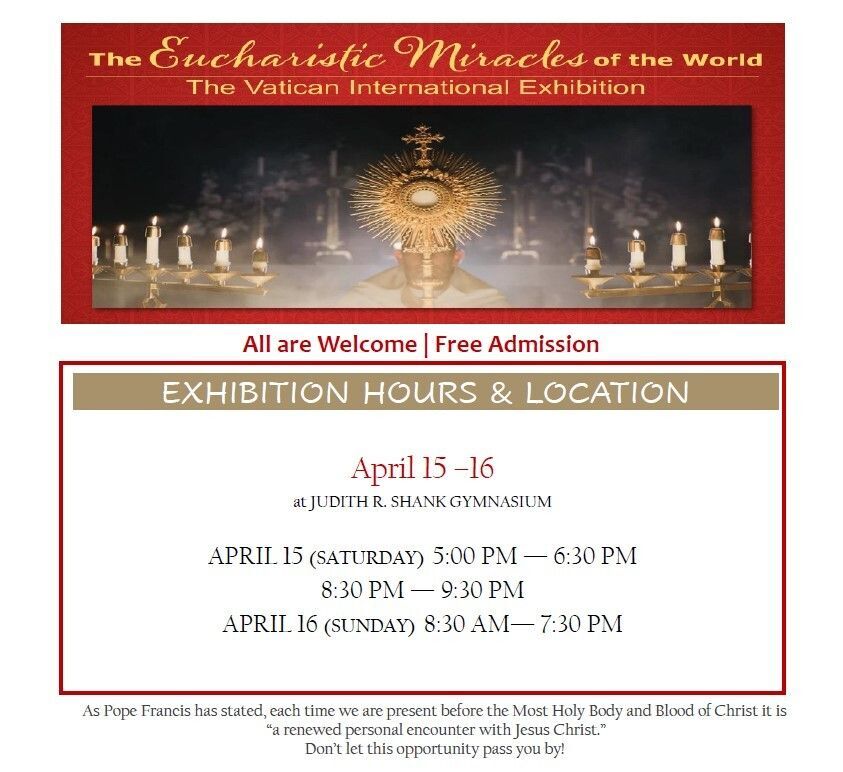 STUART | St. Joseph Parish hosted the "Eucharistic Miracles of the World" exhibit April 15-18, in the school gymnasium in Stuart. The display, which has visited several parishes in the Diocese of Palm Beach, features content that was researched by Blessed Carlo Acutis, who was beatified in 2020 after dying from leukemia in 2006 at age 15.
A committee was formed at St. Joseph to obtain the exhibit from St. Helen Parish in Vero Beach and develop a plan for how the display would be available to the Martin County community. Debbie Walker, St. Joseph pastoral council member, worked with parish receptionist/administrative assistant Maily Rychcik, parishioner Jonathan Knaus and numerous other volunteers to staff the exhibit.
Walker said she was excited to provide information about Eucharistic miracles as part of the National Eucharistic Revival called for by the U.S. Conference of Catholic Bishops. Besides making the posters available that detail the story behind each miracle, the parish asked visitors to offer their impressions about what they learned. A separate room was used to show videos from YouTube about the miracles.
After each of the Sunday Masses, there was a café for people to get coffee and doughnuts. On Monday and Tuesday, students from St. Joseph School were able to view the exhibit.
Walker gave a special thank you to members of the Knights of Columbus, Councils 6241 and 18167, for helping set up the posters and serving as exhibition guides.
To learn more about St. Joseph Parish, visit www.sjcflorida.org. For information on how parishes can host the Eucharistic miracles exhibit, call the St. Helen parish office at 772-567-5129.