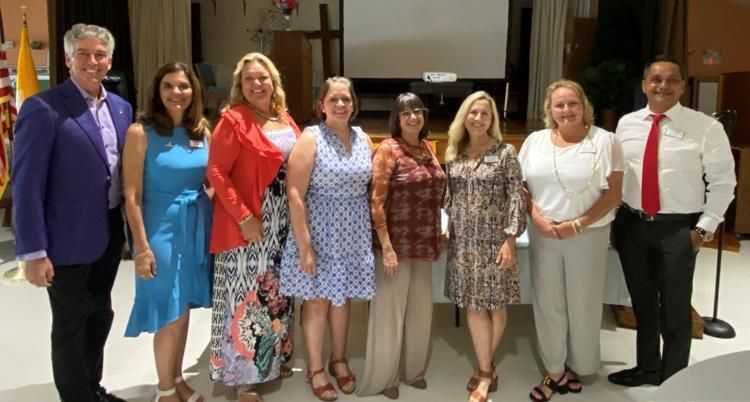 FORT PIERCE | St. Mark the Evangelist Parish in Fort Pierce hosted the latest Luncheon 4 Life on May 24 featuring speakers from Catholic Charities' Birthline/Lifeline Pregnancy Care program. Birthline/Lifeline director Katherine Bowers, Women's Pregnancy Solutions mobile unit director Kenda Peterson and staff member Margarita Duncan spoke about what motivates them to serve women and families in need.
Birthline/Lifeline began in the 1970s and continues to be a vital program of Catholic Charities in the Diocese of Palm Beach. Services related to pregnancy and parenting young children, all provided free of charge, emphasize protecting life, healthy lifestyle choices and building a culture of life.
The purpose is Luncheons 4 Life is to open communication channels among participants through grassroots, person-to-person networking. To learn more about the Catholic Charities Respect Life Ministry and Luncheons 4 Life, visit www.ccdpb.org or call 561-360-3330.
---

Picture by Jennifer Trefelner: Participants of the May 24 Luncheon 4 Life include Jonathan Knaus, left, Luncheons for Life host; Deanna Herbst-Hoosac, co-host and Catholic Charities Respect Life Ministry coordinator; Kenda Peterson, Birthline/Lifeline mobile units director; Katherine Bowers, Birthline/Lifeline director; Margarita Duncan, volunteer and future Birthline/Lifeline staff member; Donna Pearson, Catholic Charities' Parish Social Ministry; Ellen Wayne, Catholic Charities CEO; and Kris Rivera, operations manager, Catholic Charities.