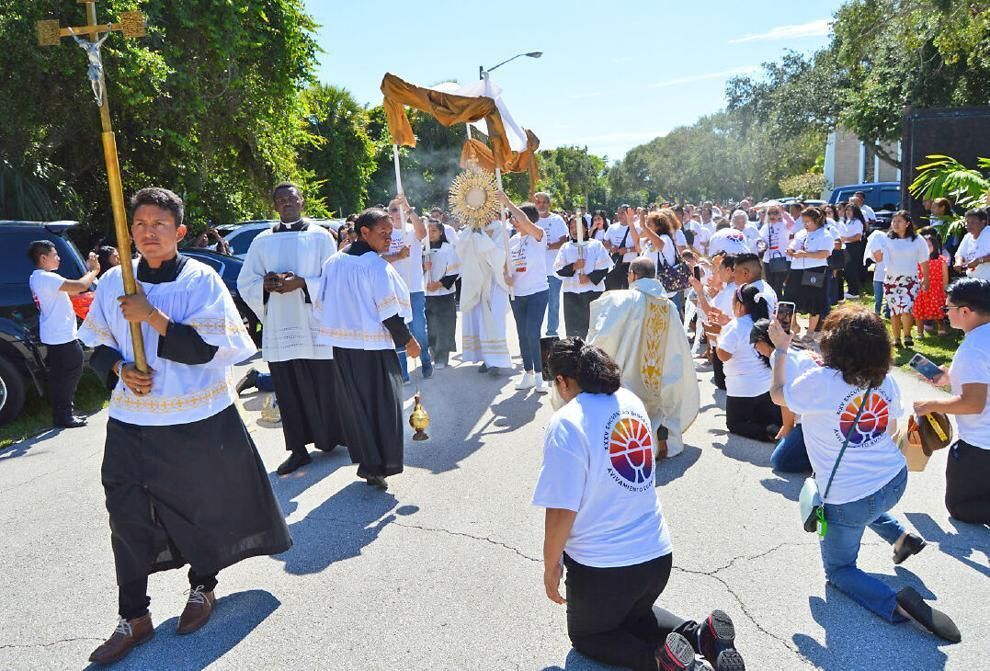 NORTH PALM BEACH | Eight hundred Hispanic/Latino parishioners from throughout the Diocese of Palm Beach gathered June 4 in the hall at St. Paul of the Cross Parish for the 35th diocesan Encuentro.
With the theme of "Eucharist and Community: Perfect Union," the afternoon event included inspiring talks focused on understanding the Eucharist and developing devotion to the Real Presence of Jesus.
"It's important to recognize that Jesus is the center of our faith, and especially this day as we celebrate in our church the Most Holy Trinity. We remember Father, Son and Holy Spirit," said Father Duván Bermúdez, director of Hispanic ministry for the diocese. "This is very important today to celebrate community at our Encuentro. Thank you, God, that many people responded."
He said members of 22 parishes with Hispanic communities attended the conference and heard thoughtful presentations by musician, composer and speaker Iván Díaz, who serves as director of campus ministry at St. Thomas University in Miami Gardens.
"Today, I was invited by Father Duván because he wanted me to share my experience and my testimony in terms of my love for the Eucharist," said Díaz, whose music is published by Oregon Catholic Press. "One of the things that the Eucharistic revival is looking to do is ignite the flame in the hearts of the attendees, so as they go out, they can proclaim the good news of Jesus Christ, but especially be able to proclaim the holy mysteries of the Eucharist.
"The thing about the revival is that, if we have that joy, what are we waiting for to share that joy with others? That's what we're looking for today. That is our goal. That everybody here gets that fire of the Holy Spirit to go out and say, 'Hey, brothers and sisters, let's return to our origins: the Eucharist. The Lord is waiting for you every weekend.'"
The Encuentro featured a closing Mass, with Bishop Gerald M. Barbarito as the main celebrant, along with several pastors. At the end of the liturgy, the bishop handed out copies of the 2022-2030 Diocesan Pastoral Plan for Hispanic Ministry to parish representatives.
Earlier in the afternoon, almost all of the attendees joined in an outdoor Eucharistic procession to St. Paul of the Cross Church and back.
For information on Hispanic ministry activities in the Diocese of Palm Beach, visit www.diocesepb.org/ministriesoffices/ministries/hispanic-ministry/. To watch a Radio Católica Online TV webcast of the Encuentro, go to www.youtube.com/watch?v=qjQhmhwxz2c and www.youtube.com/watch?v=lKo0q9cJfgE.