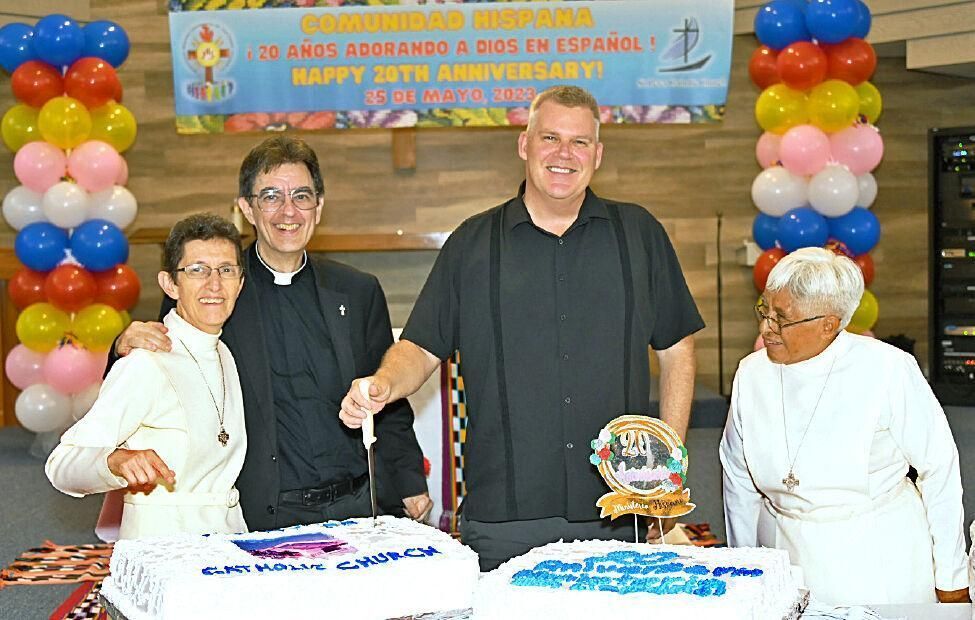 JUPITER | St. Peter Parish celebrated the 20th anniversary of its Hispanic ministry May 25, 2023, with a Mass presided by pastor, Father Don Finney, and concelebrated with four other priests and four deacons.
The guest priests were Father Alfredo Hernández, rector and president of St. Vincent de Paul Regional Seminary in Boynton Beach, and Father Nestor Rodriguez, pastor of St. Joan of Arc Parish in Boca Raton, both of whom were instrumental in organizing the Hispanic community at St. Peter. Also present were Father Jean Boulin, who served at St. Peter for more than 10 years, and Father Wesler Hilaire, parochial vicar at St. Peter.
Two members of the Guadalupan Missionaries of the Holy Spirit, Sister Marta Tobon and Sister Manuela Gutierrez, were also in attendance. They helped in the early years to establish the parish's Hispanic ministry.
The special liturgy was celebrated in Spanish, English and Popti, a dialect spoken in the rural areas of Jacaltenango, Guatemala, where many parishioners were born. In his homily, Father Finney recalled the enthusiasm of the first steps taken to organize the Mass in Spanish.
"While the liturgical ministries were being trained, many volunteers went door-to-door announcing that a Spanish Mass was going to be celebrated at St. Peter," he said. "At first, we thought it was going to be something small, but our joy was great when we saw that over 1,000 people gathered for the first Hispanic Mass. This was a sign that a permanent Mass was needed in the large church. Since then, the community has remained strong and active."
A reception followed the Mass, with community leaders recognized for five, 10, 15 and 20 years of service. Two artisans from the village of La Laguna de Sololá, Guatemala, presented Father Finney with a painting of the Quetzal, the national bird of Guatemala, as a token of appreciation.
For more information about St. Peter Parish, visit www.stpeterjupiter.com or follow on Facebook, Twitter, Instagram and YouTube. Follow the parish's Hispanic ministry on Facebook @spcomunidadhispana.