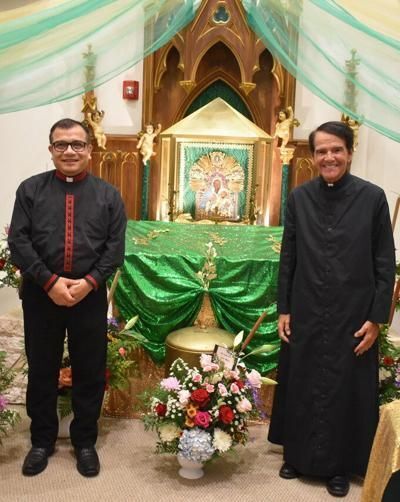 PAHOKEE | St. Mary Parish in Pahokee celebrated its anniversary in grand style Sept. 8, 2023, the feast of the Nativity of the Blessed Virgin Mary.
The 90th anniversary celebration began with a children's procession, Mass and opportunities for veneration of the 16th century Russian-jeweled Our Lady of Bethlehem icon. Father Juan Raúl Cárdenas, pastor, and Father John Mericantante, pastor emeritus, concelebrated the liturgy, with the church and altar decorated with flowers honoring Mary on her birthday.
In his homily, Father Mericantante spoke about when Bishop Gerald M. Barbarito came to St. Mary in 2012, to celebrate "something special."
"The bishop came that day to bless the new church and to consecrate the altar so that the holy sacrifice of the Mass might be celebrated that very first day," he recalled, giving thanks to the Blessed Mother. "The 16th century icon had everything to do with our success in raising the sufficient funds to build this new church. Today, I would like to take this opportunity to thank Our Lady of Bethlehem for her most kind and most generous intercession on our behalf."
He led the congregation in singing "Happy Birthday" to Mary.
As shared about the icon on the parish website, "Today, these holy images of the 16th century await our prayers, our petitions and our supplications. Now, their history is mingled with ours. Now, through what may be considered an act of great generosity of destiny through Mr. and Mrs. Edward Kahn, we are to be the custodians of this precious sacred work. Now, it is our turn to see our history as divinely watched and guided by so holy a mystery where Mother and Child, though in heaven, touch the earth through sacred objects and in return allow each one of us to turn to them and through them to touch the face of God."
Father Mericantante was presented with a bouquet of flowers by a young girl dressed as the Virgin Mary, to thank him for his years of priestly ministry and his important role in the construction of the current church.
"We gave flowers to Father John, thanking him for 20 years of his priesthood building this community, and he played an important role in building this church and the very important role with Our Lady of Bethlehem, Our Lady, Mary, interceding," Father Cárdenas said. "Many people sowed the seeds to build this community, small roles and important roles, and Father John's was an important role."
The celebration continued with an outdoor reception next to the soccer field. Father Cárdenas explained that "today we have the final women's soccer tournament, and then next month we begin the new soccer tournament."
To view the icon or learn more about St. Mary Parish, call 561-924-7305 or visit stmarysofpahokee.com.
To read this and other stories in Florida Catholic, click here.