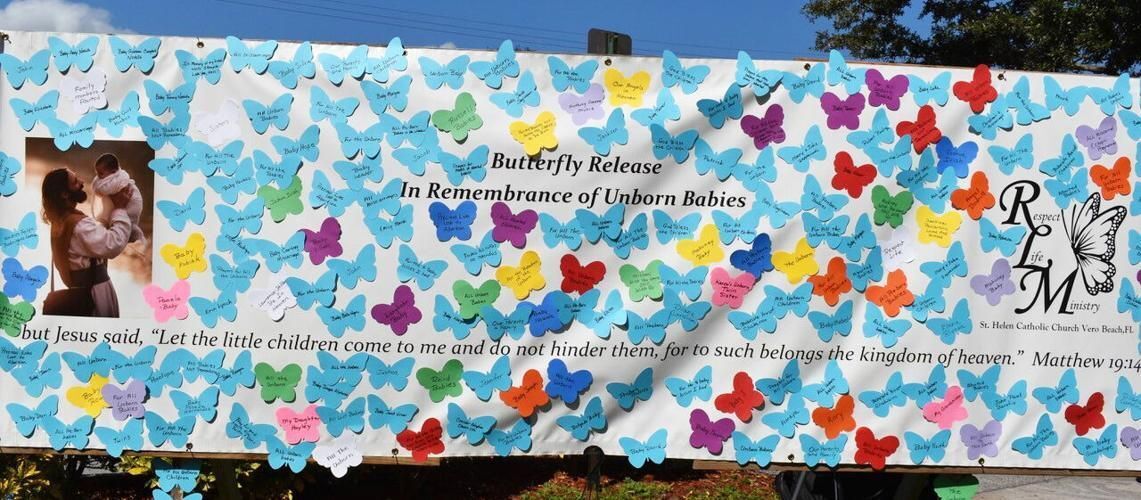 VERO BEACH | The Butterfly Release sponsored by the respect life ministry at St. Helen Parish in Vero Beach has become a popular tradition. The releasing of butterflies symbolizes healing for all who have suffered the loss of a baby through miscarriage, stillbirth or abortion. A memorial for these unborn babies was on display offering an opportunity for reflection and remembrance.
Before the sixth annual event began Oct. 29, Susan Baldwin, respect life ministry co-chair, spoke to the Florida Catholic about the significance of the event. "We pray that the symbolic releasing of butterflies will bring peace, love and forgiveness to those who have experienced these losses," she said. "The Butterfly Release has been very therapeutic for people just to heal from their grief or just to honor the memory of their baby."
Before leading the participants in an opening prayer and blessing, Father Frank D'Amato, St. Helen's parochial vicar, shared that he had recently suffered a loss. His mother died 20 days before he came to serve in Vero Beach, and his mother in her life suffered the loss of six children. "But despite that, she persevered through her faith," Father D'Amato said.
"So, it's a testament to your faith that you are here, and that is one of the things that she passed on to me. Our faith elevates our humanity, and that allows us to endure things that we could never do on our own," he said.
Holli Ann Skrapits, who began the Butterfly Release in 2017, passed away Sept. 8, 2021. She had been an active member of the parish and the respect life ministry.
"Holli had an incredible passion for protecting the unborn and for helping heal those who have suffered the loss of a baby," Baldwin said. "Although Holli is no longer with us physically, we know that she is with us in spirit, especially today."
Baldwin explained the loss of a baby triggers many emotions, such as "deep sorrow, grief, anger, guilt, emptiness, loneliness, and even more." She shared a prayer and her hope to cope with that loss: "We pray that you feel love, great love, love from your baby above, love from the people who surround you, and most of all, love from God, our Father."
The program continued with Gloria Allen reading a poem about the loss of a baby, "Little Butterfly" by Amy Farquhar. "Little Butterfly, I lived my life inside you cocooned in all your love. So mama, papa, please don't cry, I am still with you just up above …"
Carolyn Dean, host on Divine Mercy 920 AM Catholic radio, played the song "Perfect Way to Start," written by Craig Aven, about how parents can find healing and comfort in God's promise of a new life after the miscarriage of their baby.
As the song played, people opened origami envelopes and released their butterflies. Jackie Cammarene read the names of the unborn babies as the butterflies were freed.
As Jimena Rosales released her butterfly, it rested on her hand. Her mother, Blanca Rosales, said, "I want my children to see this so they can understand the importance of life."
Lorena Penalva said, "I lost a baby by miscarriage at five weeks, and so I want them (her children) to remember that baby. The butterfly wouldn't leave my daughter, so I think that was very significant."
Deanna Herbst-Hoosac, Respect Life program director with Catholic Charities, said, "We are blessed in our diocese to have St. Helen and their Respect Life ministry and all the events they have at the parish to promote the culture of life, and their Dignity of Life series."
Dean added, "Every year I get blessed by watching the children focusing on the little butterflies and smiling when they take off and fly."
At the conclusion of October, which is Respect Life Month, St. Helen's parish hall featured a "Baby Scapes" art exhibit Oct. 27-29 by Vero Beach artist Jane Meeks. The exhibit depicts nine months of pregnancy from conception until birth.
"We had every school grade come in and take a look at this and they take it in very deeply," she said. "The story of the exhibit is God's love for us because he created us and he knew of us even before we were born." Meeks explained that she had "never painted babies in the womb before, but always painted landscapes, and this was a leading of the Lord to do this."
For more information on St. Helen Parish and its ministries, visit www.sthelenvero.org or connect on Facebook. To contact Meeks about her "Baby Scapes" exhibit, go to https://janemeeksart.com.
To read this and other stories in Florida Catholic, click here.